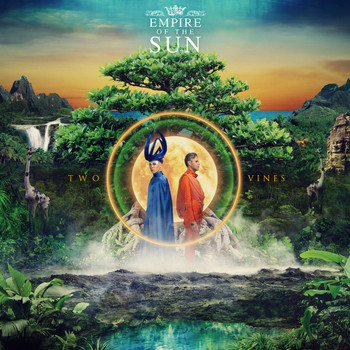 Preview Two Vines (Deluxe)
Record Label:
EMI Recorded Music Australia Pty Ltd
7digital

What we said:

From surreal, animated music videos to extravagant stage shows characterised by elaborate sets and costumed dancers, Empire of the Sun is really a multi-sensory pop project. Divorced from these visual props – as on record – Luke Steele and Nick Littlemore's compositions can't help but feel a little flat. While the Australian duo don't solve that problem on this follow-up to 2013's Ice On The Dune, there's no denying their enthusiasm, and if you enjoyed the ostentatious dance-rock on the past two records, you'll be pleased to hear they haven't deviated far from the formula. Learn the new songs now, and then get yourself to one of their legendary live performances for the full Empire of the Sun experience.
| Track Number | Track Title | Track Length | Track Price/Buy Link |
| --- | --- | --- | --- |
| 1 | Before | 4:05 | |
| 2 | High And Low | 3:43 | |
| 3 | Two Vines | 3:49 | |
| 4 | Friends | 3:20 | |
| 5 | There's No Need | 3:28 | |
| 6 | Way To Go | 3:12 | |
| 7 | Ride | 4:07 | |
| 8 | Digital Life | 4:02 | |
| 9 | First Crush | 4:11 | |
| 10 | ZZZ | 3:10 | |
| 11 | To Her Door | 3:55 | |
| 12 | Keystone | 2:31 | |
| 13 | Lend Me Some Light | 3:29 | |
| 14 | Welcome To My Life | 4:01 | |
Duration:

51:03
Genres:
℗ 2016 The Sleepy Jackson Pty Ltd and Nick Littlemore, under exclusive licence to Universal Music Australia Pty Ltd
© 2016 The Sleepy Jackson Pty Ltd and Nick Littlemore, under exclusive licence to Universal Music Australia Pty Ltd