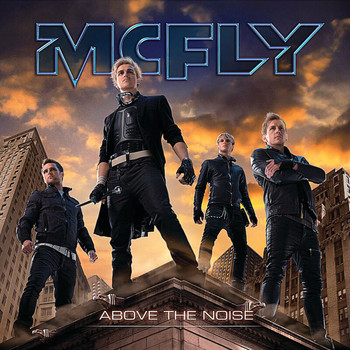 Preview Above The Noise
Record Label:
Universal-Island Records Ltd.
7digital

What we said:

It seems ironic that though pushing their mid-twenties, McFly sound more like a boy band now than when they were merely a bunch of precocious pop-punks, back in the day. Following Take That's example, Tom and co have gone synth-tastic for the glittering stomp of single 'Party Girl', whilst elsewhere there's the Prince-influenced 'iF U C Kate' and gospel-inflected 'I Need A Woman' to showcase some mighty fine R&B vocal stylings. You could blame the company they're keeping, with super-slick production courtesy of Dallas Austin and a guest appearance from Taio Cruz on 'Shine a Light'. But we prefer to enjoy the infectious hooks whilst admiring the snazzy new haircuts.
| Track Number | Track Title | Track Length | Track Price/Buy Link |
| --- | --- | --- | --- |
| 1 | End Of The World | 4:02 | |
| 2 | Party Girl | 3:14 | |
| 3 | iF U C Kate | 3:40 | |
| 4 | Shine A Light (Radio Edit) | 3:39 | |
| 5 | I'll Be Your Man | 4:15 | |
| 6 | Nowhere Left To Run | 3:23 | |
| 7 | I Need A Woman | 4:00 | |
| 8 | That's The Truth | 3:52 | |
| 9 | Take Me There | 3:43 | |
| 10 | This Song | 4:07 | |
| 11 | Foolish | 4:22 | |
Duration:

42:17
Genres:
℗ 2010 Mcfly*
© 2010 Mcfly*