Bear's Den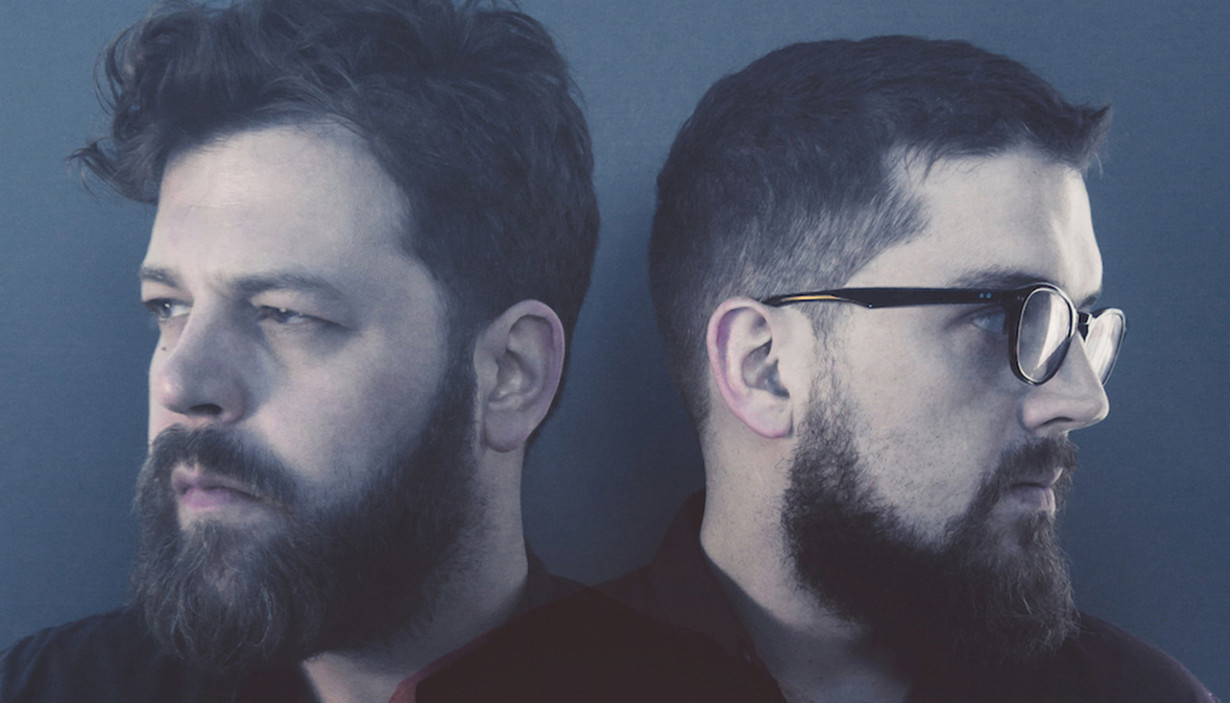 In the two years since their debut, Bear's Den have slimmed down from a trio to a duo, and graduated from folk-pop to widescreen Americana. We caught up with Andrew Davie and Kevin Jones to discuss second LP Red Earth & Pouring Rain, festival season and their connection to 'The Fresh Prince of Bel-Air'.
Hi guys, can you tell us about the thought process behind Red Earth & Pouring Rain?
Kevin Jones: It does feel like, in some ways, a continuation of the first record. We had this idea of making an album you could drive at night to, so we wanted to incorporate things that made us feel like there was a sense of forward motion and escape. It's an expansion of the first record, I think.
How did the departure of Joey Haynes affect the sound of the album?
KJ: I think we had a clear idea of what we were trying to achieve with the second record. And because one of the founding concepts of the band is that we're all multi-instrumentalists, it means that whoever's got an idea can articulate it on any instrument. So I guess the sound of the new record is probably more down to the vision we had than the personnel change.
Is your new single 'Auld Wives' a good sign post for the rest of the record?
KJ: I think 'Auld Wives' is probably on one end of the spectrum of what the record is like. I think there are some much more tender, more acoustic moments, but there's quite a mix of songs on the record. It's about forming a palette and picking from that palette. 'Auld Wives' is quite heavily influenced by that idea of driving at night, but elements of that song bleed into other ones. So I guess it's a bit of a mixed bag, really.
How does the creative process work for you? A lot of bands have to lock themselves away to knuckle down.
Andrew Davie: It's not dissimilar. I hope that changes but, yeah, when you're touring a lot you're obviously working, and it's quite intense. And unless you go, "I'm out of the game," it is very hard to find time to do stuff. It's the kind of thing where, if you're in London, you'll probably end up doing fun stuff like going to the pub with your mates. Making an album, there's so much work that has to be done on so many different aspects of it for it to sound even remotely good. So, yeah, it definitely involves a bit of isolation so you can make the effort. For this album we spent a couple of weeks in Holland, just writing.
You've moved away from the folky sound of your debut, and you've shifted your stylistic approach to videos now too. How important is that connection?
AD: Yeah, that's very important to us. I think music videos are a very strange thing.
KJ: They're quite strange, yeah.
AD: Just, like, the concept of it is quite strange. But it's a really good way of metaphorically exploring whatever you're trying to explore in a piece of music, which is quite an exciting and interesting challenge. And we've always been really lucky with music videos in that we've always worked with great people. We were looking for someone to direct a music video and ended up finding a guy called Sam Yates. He's an amazing director and he's done a lot of stuff with theatre. He worked with Joseph Marcell, AKA Geoffrey from 'The Fresh Prince of Bel-Air', on 'Cymbeline' recently, and he was like, "Yeah, I'd love Joseph Marcell to be in it, and here's my idea," and it was great. And it really got into the spirit of the song – it's pretty awesome when that happens.
We were taken aback when we released it was Geoffrey! Did you get to talk to him?
Kevin Jones: Yeah, we got to hang out with Geoffrey. He's a lovely guy: really funny, a bit eccentric, but really lovely. It was an honour to hang out with him.
How was Glastonbury for you this year? Did you manage to catch any other acts?
KJ: Yeah, we stuck around until midnight that day. We made the most of it, I think it's fair to say. It was pretty amazing to play Glastonbury, particularly to play The Other Stage – that's a huge honour. And yeah, it was pretty nuts, but Glastonbury is unique amongst the festivals. It's the king of the festivals isn't it?
AD: It's a beast of a festival: it's a world, a universe. Definitely after an hour of being at Glastonbury you just totally forget the real world exists. It's amazing.
What are your fail-safe festival survival tips?
KJ: Sleep, if possible. Bring wellies.
AD: This is the first Glastonbury I've done where I actually had wellies, which is rule number one and yet somehow I've never done it. It was definitely nice having wellies this year. [Take] cleansing wipes if you're camping – very important.
KJ: A poncho. I managed to get hold of a poncho this year.
AD: And it looked really good.
KJ: I felt good in it.
AD: I was really jealous.
What's your routine for acclimatising to real life?
AD: I spent a lot of yesterday in bed.
KJ: Vietnamese food sorts you out. Greasy but fragrant: it's a good combination.
How do festivals compare to your own shows? Is there an element of trying to win people over?
KJ: That's how we started as a band – that's how every band has to start – playing to people who haven't heard of you, and trying to win them over. And we did a lot of that early on, so it's fun for us to still have that attitude and really project and try to engage with people.
How are you feeling about the forthcoming UK/European tours?
AD: Yeah, we're really excited to get back on the road. Playing live is a really important thing for us; just being able to do that is amazing. On a slightly more selfish level, playing show after show after show is how you improve as a band as well. With our first album, we toured it so much that it sounded quite different, and that made up half the journey towards the second album. So I'm excited to start touring the second album, because maybe that will inform where we go from here.
July 2016