Hookworms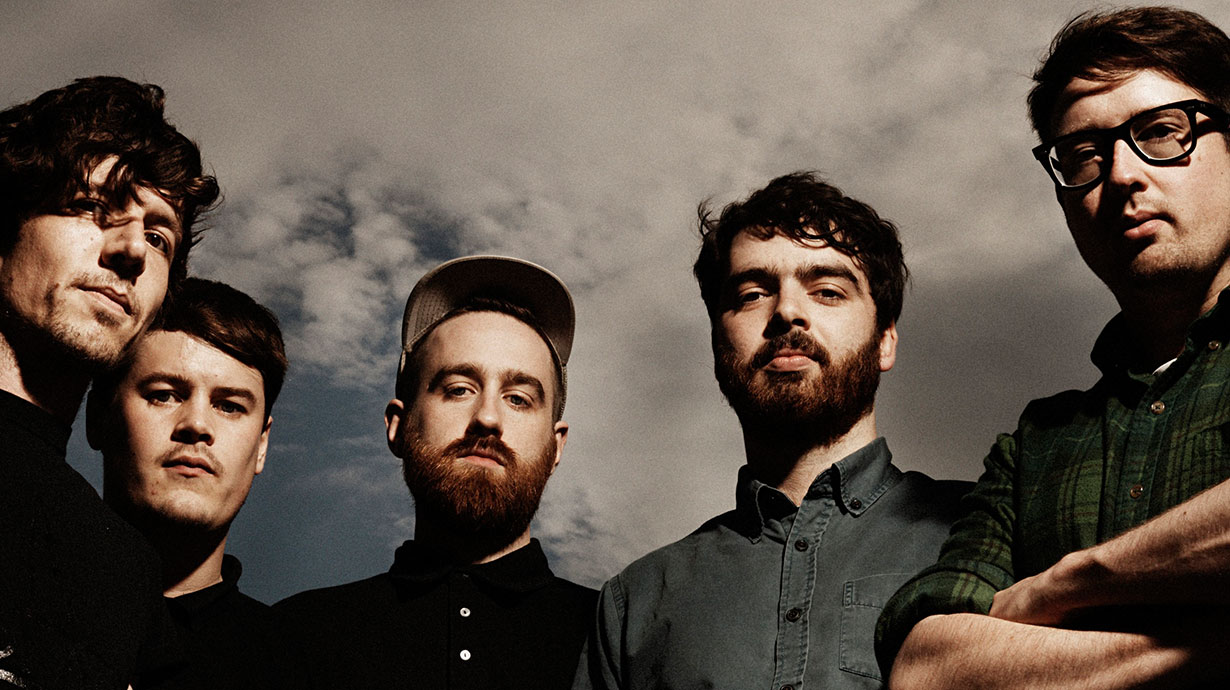 Named "album of the year" by Drowned In Sound, Hookworms' second LP Pearl Mystic was one of the highlights of 2013. A year on, the Leeds outfit are back with The Hum, their debut for Domino imprint Weird World. We caught up with frontman MJ to hear the story behind it, and to find out more about the plethora of other musical projects he has on the go.
Hey MJ, you just finished a UK tour, right? How was it?
We had a really nice time, thanks. We played the new album in its entirety and there was a kind reception to that. It can be difficult with the longer songs we write, deciding on what to play and what to leave out.
Are you noticing any change in the sizes or types of audiences you're drawing, post-signing with Domino?
It's hard to say. We've been a band for five years, and the number of people interested in what we're doing has slowly increased throughout that time.
Why did you choose to sign with Domino? And how are the guys at Weird World to work with?
Domino is genuinely my favourite record label. We're all humbled to be a part of it. It was also important to us to still be a band making records in years to come and it felt like Weird World was our best shot at that. They're all – without exception – great people. It was worth signing alone just to receive [A&R manager] Jack Shankly's Facebook updates.
You've always been a very hands-on band. Has signing to a bigger label meant you've you had to make any compromises?
Not yet. I feel for MB who answers all of our emails, because the number we receive now has increased at least tenfold. [Weird World] didn't hear a note of the record until it was completely finished, and then they signed off the first mix we sent them. This is entirely the record we wanted to make and release.
Can you tell us more about the creative process on The Hum, please?
It was recorded at my studio in Leeds, Suburban Home, over a period of about nine months from August last year. The Hum was written differently from Pearl Mystic, as we wrote together in the live room and then recorded demos of what we had. Last time, a lot of the record was written in the studio with everyone adding or tweaking sections. This isn't a band where someone brings in a fully-formed song and then the others learn it; it's a very collaborative process. All our credits are split equally five ways, regardless of who played or wrote different parts.
What was the goal sonically?
It was very much that, this time, we were able to reproduce the record live, which was something we were unable to do with Pearl Mystic. A lot of that record was realised in the studio and would be impossible to realise live with just the five of us.
And how has JN joining impacted on your sound?
He's such a great drummer. The rhythm section in this band is amazing; the best of any group I've ever been in. He's also a songwriter himself, and thinks very deeply about his parts and how they work with the music as a whole. [He's had] a totally positive impact.
Sonically, The Hum is hugely varied, ranging from the ragged, frenetic punk of 'The Impasse' to the almost Galaxie 500-esque spaciousness of 'Off Screen'. Can you tell us some of the reference points for this record, please – both musical and non-musical?
We made a playlist of stuff that had influenced us individually making the record, featuring tracks by The JB's, Eddy Current Suppression Ring, The Velvet Underground, The Modern Lovers, Link Wray, UV Race, Can, Harold Grosskopf, Stereolab, Nisennenmondai, LCD Soundsystem, Fugazi, Spacemen 3, Broadcast, Low, Wilco, Oneohtrix Point Never and Sonic's Rendezvous Band. A lot of my lyrics are influenced by minimalist writers such as Raymond Carver and Lydia Davis.
If you had to pick out the one track on the album that you're proudest of, which would it be?
'Beginners', because I feel like it's the closest we've come yet to realising what we're trying to do. Also, it was the last song we finished. I wrote and recorded the vocals for that a day before we took it to be mastered. The structure of the song was a nightmare to get right. We re-recorded it so many times.
Thematically, Pearl Mystic came from a place of darkness, drawing on some difficult personal experiences. What was your starting point this time, lyrically?
I find writing lyrics cathartic and so, again, they are mostly about my experiences with depression. One of the songs on the record is flipped so it's about the experience of depression in a close friend. Two tracks are love songs.
In interviews, and on social media, you're vocal in calling out inequality and social injustice. Do you feel a sense of responsibility to use your standing in the industry to raise awareness of issues that matter to you?
I think we'd have posted in exactly the same manner were our band known or not. I guess people pay more attention now, though. We're definitely aware that we have this pedestal at the moment, but there was no intention of this ever being a political record.
We spoke to Pulled Apart By Horses recently about the Leeds music scene, and they said there's practically no competitiveness there. Is that your experience, too?
They're right; it's a nice thing that I can go to the Brudenell Club and bump into someone from another band, like Pulled Apart By Horses or Eagulls, and have a drink and chat with them. A lot of people play in each others' bands here, and it's been like that since I moved here eleven years ago.
I think the back-to-back housing with extensive basements in LS6 is a huge boon for the musical community here. Cheap, accessible space to create in is so important. I love living in Leeds and I hope it never changes.
You're pretty much the linchpin in Leeds' music scene, working with numerous bands at any one time. Where does that incessant desire to create come from?
I think linchpin is a bit strong – I'm just lucky that I have a lot of talented friends that I get to record. I probably do work too much, but I feel really humbled that I make my living from recording music, so I'd rather not rest while these opportunities are there. I've worked enough shitty temp jobs before I started doing this to know how lucky I am to help people make music for a living.
Outside of Hookworms, what projects do you have on the go at the moment?
I'm just finishing up an album with Kult Country from Manchester, who make very song-based psychedelic or shoegaze music. I think it's a really coherent album, which is important to me, so I'm excited for other people to get to hear it. I also play in a band called Menace Beach when I have the time, and we just finished an album that's coming out on Memphis Industries in the new year. Seeing as I didn't write the songs I feel like I can say I think it's amazing: perfect indie-rock songwriting.
Yesterday was the last tracking session for the new Frankie and the Heartstrings album. I think they're a great pop band, and this new record circles back to where they were with their first releases. There's a strong Orange Juice influence, but now they have Ross from The Futureheads on board adding some incredible solid harmonies and guitar parts. I think it's more driving and to the point than anything they've done in the past.
And I really enjoyed recording an album for a band called Pinact from Glasgow, who make college-rock in the vein of The Thermals. I love them so much and I think the LP is out early next year.
What would be your dream collaboration?
I'm entirely self-taught so I would be keen to assistant-engineer a session with a producer I look up to, like John Congleton or Dave Fridmann, and improve myself.
What new bands are you most excited about right now?
These aren't really new but: Trust Fund from Bristol/Leeds, who make kind-of dark, power-pop; Commiserations from Leeds, who fans of Arab on Radar would like; Shopping, a post-punk band from London; Golden Teacher from Glasgow who make party music (I wish I was in this band); and Pinact! I'm about to start second albums with TRAAMS and Joanna Gruesome soon, and they are two of my favourite bands in the country.
So, what's the plan for the rest of 2014?
We have the rescheduled Newcastle date of our tour on 6th December, a Rough Trade in-store 15th November and are then having our band Christmas party supporting Slowdive at London Forum on December 20th.
Finally, what has been your favourite album of 2014 so far?
Angel Olsen's Burn Your Fire For No Witness: amazing songwriting and tender production that effortlessly looks back while also being entirely contemporary.