Wolf Alice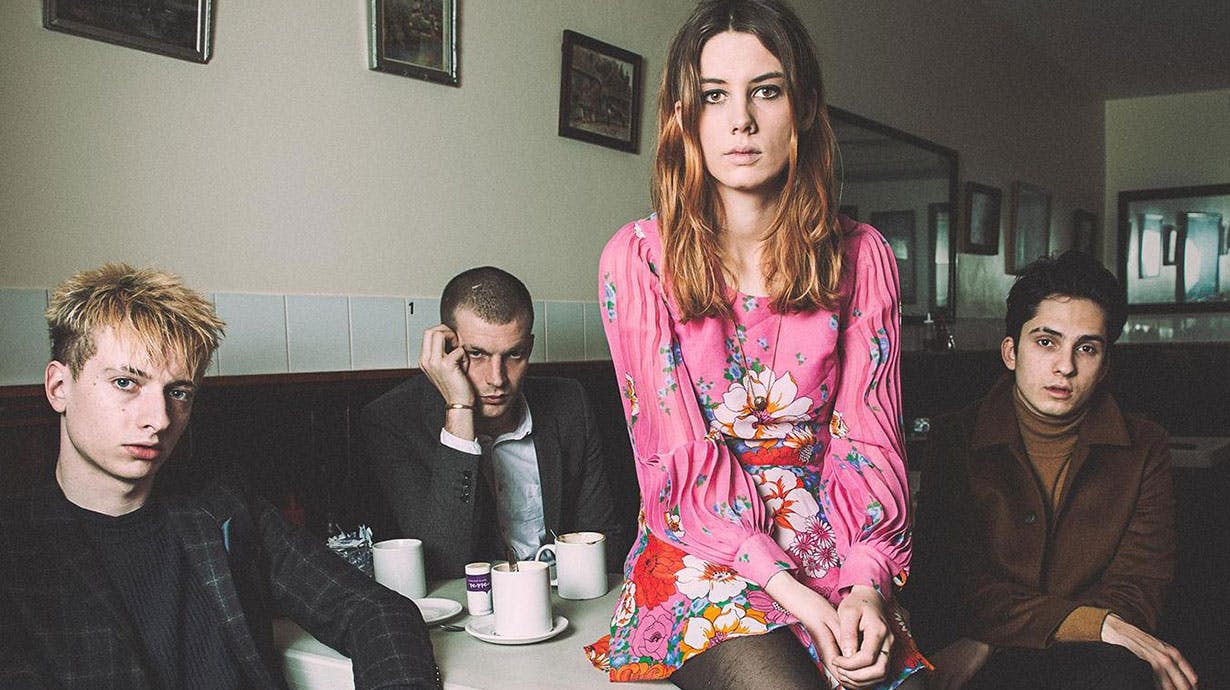 Racking up more blog mentions than any other band last year, North London alt-rockers Wolf Alice are being widely-tipped as the saviours of British guitar music. We caught up with the quartet at SXSW to hear their take on the hype, their plans for their debut album and the story behind latest EP Creature Songs.
For the benefit of those who don't know much about you, can you recap how the band formed please?
Theo Ellis: My mum used to teach ice-skating and Ellie and Joff both did synchronised ice-skating. Joff actually trained to be an ice-skater for England. Anyway, I used to come and hang out outside the rink.
Joff Oddie: I remember I didn't like Theo. I quite liked Ellie. And when I met Joel, I thought he dressed like a prat.
Ellie Rowsell: I didn't like any of them, and I still kind-of don't.
Joel Amey: I really liked them when I first met them, and now I don't.
TE: I really like them all. I'm just gutted that they hate me so much!
We heard you started out making country and western songs…
JO: I don't know if it was country and western, but we were limited because it was just me and Ellie, and all we had was an acoustic guitar, a tambourine and a glockenspiel.
ER: Maybe it was a bit more country and western… I don't know, we do like that kind of music but I don't think we intentionally tried to make that kind of music.
So what music do the four of you bond over?
TE: The first three Kings Of Leon albums. The Vines? The Brian Jonestown Massacre? And we've realised how much we all love Patrick Wolf.
ER: Yeah, I think that was the one where we were like, "Sh*t, someone that not everyone really likes, we all really like."
JO: Lycanthropy and Wind In The Wires are incredible. The dance rhythms, the production…
So tell us more about the new EP.
JA: We just recorded it in Brussels with Catherine Marks, who's the main engineer for Flood. She did the last Foals record, and she mixed PJ Harvey's record.
ER: It's four new songs. We've been playing one of them live for a while, but the other three I don't think anyone's ever heard before. There's 'Moaning Lisa Smile', which is an ode to Lisa Simpson, and one called 'Heavenly Creatures' which is an ode to the film.
What can we expect, sonically?
ER: Two loud, fun ones, and two quiet, miserable ones!
JO: There's one that will make you cry, or maybe make me cry? It's going to make someone cry. There's one that makes you dance...
ER: ...One that makes you fight, and one that makes you cry again…
Will they be on your debut album?
ER: We're not sure… We haven't started recording the album yet, but we want to do it this year, hopefully in the summer, with a view to releasing it early next year. It's all undecided, though; we're taking it one step at a time.
JO: Yeah, that's one of the blessings about us having signed to Dirty Hit; there's no pressure for us to just release the first thing that we write. It means we've been able to breathe a little bit and deliberate over the songs. We want our debut to be something that we're all really proud of; we don't want to get trapped in the tundra of hype.
Speaking of which, you've had some very vocal support from the music press. You're being billed as the future of guitar music, you know...
TE: It's not true!
JA: It's very flattering, though.
JO: Yeah, it's lovely; you can't get a higher compliment than that. But I just think that concept of guitar music needing a saviour – and that being embodied in one band, or two bands or a scene – is nonsense. I don't think guitar music ever really went away. It just wasn't being championed by the right people for a while.
TE: I don't think we're trying to be the future of guitar music. We're just trying to be Nirvana!
JA: We're trying to be Elastica, man!
ER: No, we don't want to be either of those things! We're the future of Wolf Alice!
It must pile the pressure on, though?
ER: Not really. I think because have quite an "eclectic sound", there's not really any pressure to conform to anything, or keep to what we know people like. The only pressure is to deliver a really good debut. You just want it to be the best thing ever.
TE: I feel quite excited about it, you know? Whether or not it's well received, they're all songs that we will really like. So I'm just excited to get them out there and be able to play them live.
In terms of debuts, what kind of benchmark are you aspiring to?
TE: The Strokes' debut? Youth and Young Manhood? Lycanthropy?
JA: The Stone Roses, I think, is an amazing debut. The first Vines record I could listen to loads.
JO: Original Pirate Material; that's the sh*t. I'm a massive fan of the first Arctic Monkeys record. That was like a fever pitch record – I remember queuing to buy it outside HMV at six in the morning, or something stupid.
JA: They've done so much good stuff, they're a hard band not to like. A massive British band who've hit it on the head. And then there's Black Rebel Motorcycle Club, Queens Of The Stone Age...
JO: (Laughs) We could do this all day... Have you heard of The Clash?!
JA: Sex Pistols: they were alright, weren't they?
Yes. But they did only make one album.
JA: That's all we're gonna do, so it's fine.
Do you have a manifesto, or a rule by which you're navigating the music business?
TE: No hands!
ER: I think it's to go with your gut feeling. If you think it's the right song, it is the right song. If you think it's the right step to take, it is the right step to take.
JO: Even if you get 100 people telling you to do one thing, if it doesn't feel right for you then it's probably not right. You know your band better than anyone else does.
ER: YOLO, basically. (Laughs)
JA: There's your headline!
So, besides recording the album, what's the plan for the rest of the year?
TE: We have our headline tour in May, and then lots of festivals. We're playing Reading and Leeds.
JO: It's a strong line-up this year, it'll be cool. And that's the teenage dream, right? Finish your GCSEs and drink cider at Reading.
JA: It'll be good to road-test the new songs, to give us a better idea of what works for the album.
TE: Oh, and we've got a collab with Kanye coming out...
ER: We don't have a collab with Kanye coming out…
March 2014