Shamir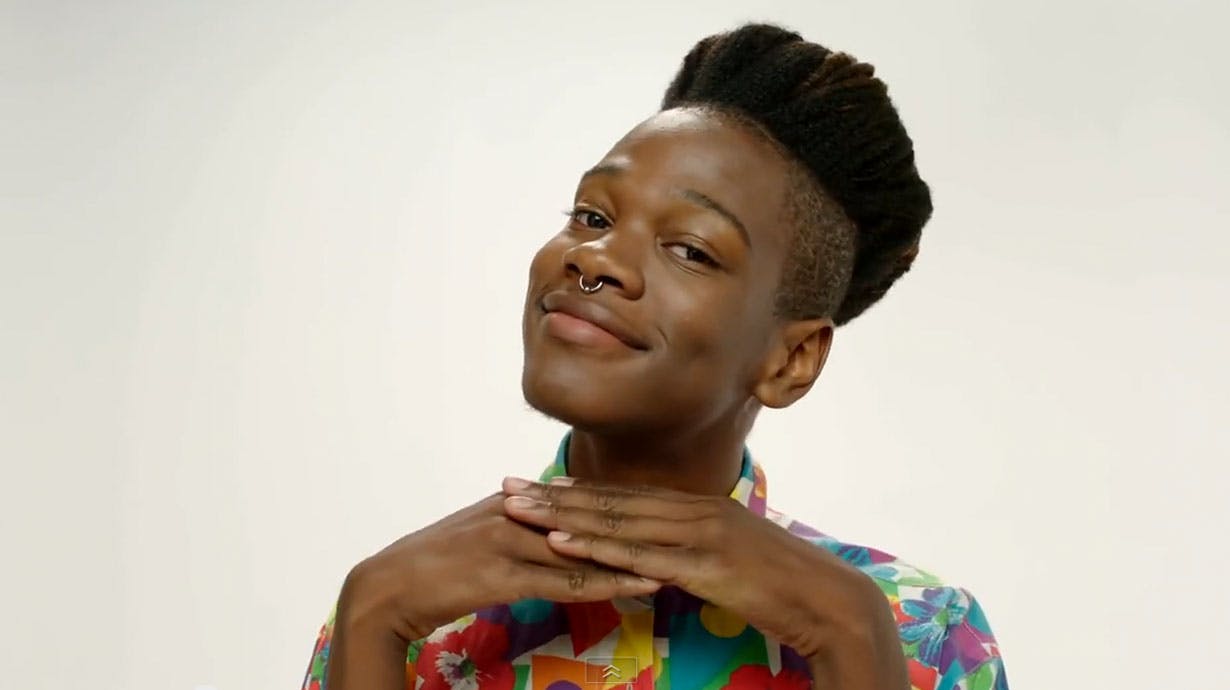 Shamir Bailey was still just a teenager when the Northtown EP was released in 2014, to widespread acclaim. Just under a year on, his disco and house-flecked full-length debut is coming out through XL Recordings. We caught up with the Las Vegas-born soul singer to find out more about his whirlwind of a year, and to hear the story behind Ratchet.
Hey Shamir, how are you doing?
Yeah, pretty well. I've gotta head off to tour in a few, so I'm getting ready for that.
Are you still living in Las Vegas?
I'm everywhere at this point! I'm still regularly in Vegas; like, I was there Vegas two weeks ago before I came out here to LA to rehearse the tour.
So can we talk about your musical background, please? What's your earliest musical memory?
Probably being with my aunt, who's a lyricist. She doesn't play or sing or anything, but she just loves to write. She used to have a bunch of musicians, producers and singers over, writing music to her lyrics; everything from country to R&B and pop. So she really showed me the music-making process.
What was the first record that you bought yourself?
Probably Cat Power? Juke Box, I think it's called – the one with 'Blue'.
Did you take any music lessons yourself?
No, I'm entirely self-taught. My mom got me a guitar, but she was like, "I'm not paying for lessons." (Laughs) So songwriting was just a natural thing too. I was hopping around chords before I even knew how to really play anything, and I used to write little ditties to myself. And then I was in a band called Anorexia, literally right before I started doing music under my own name. So solo music was pretty much my second experiment, and it turned into this!
You recorded your debut EP, Northtown, with Nick Sylvester. How did that come about?
Well, the EP was released on Godmode, which is the label that Nick runs. I sent my demo to him six to eight months prior to the EP coming out, really just wanting to release a tape of the home-recorded demos. I had no idea that he was a producer or was even interested in making music, so it was a really cool surprise.
Northtown took maybe two weeks to record, and it was something me and Nick did to see how well we worked together. It worked out really well because Nick and I just see eye-to-eye, which is super rare. And once we released it XL [Recordings] got in touch and everything fell into place.
Were you a big fan of XL before you signed with them?
Oh definitely, yeah. I mean, have you seen that roster?! There are so many great artists. I really, really, really love M.I.A. She's just such a visionary. I love Peaches too; she's a huge inspiration to me. And I love Vampire Weekend.
How soon after Northtown did you start work on Ratchet?
Not too soon. There are one or two songs that were bedroom demos from before I was doing this, but everything else was written between October and December of last year. So, yeah, it was pretty fast.
Can you explain how the creative process works for you, please?
It varies a lot. It can just be me and the guitar or piano, banging away at chords and singing lyrics, or Nick will send me an instrumental demo and I'll write around that.
Sonically, was there a goal for Ratchet?
Not necessarily. Aesthetically, I definitely wanted to keep the house/disco vibe, but outside of that each song has its own inspiration, and the main goal was trying to put that across on the album. I had this checklist of genres that I wanted to have on the album, and once I'd checked everything off I was like, "Ok, album feels well-rounded for me." So there's R&B and rap, and straight-up pop, and something punk-inspired, and the bonus track on the album is a straight acoustic folk song. So yeah, I was just really excited and happy that I was able to get that across.
Were there any specific reference points?
Yeah, totally. People might find this super-weird but I got the melody for 'Call It Off' from a Jewel song. That's really funny to me, and probably to a lot of other people too, but I really love Jewel.
Also, the thing that I'm really proud of about this record is that it's kinda uninspired too in a way. You know, before the record I wasn't too well-versed in house music and disco music, and to be honest I really don't wanna get too well-versed in it, or even to listen to much of it, because that way it doesn't sound like I'm copying anything
Lyrically, were there any specific themes you wanted to discuss on Ratchet?
Yeah, definitely. I try to make all of my songs relatable and about life. And I like to write songs about things that people go through but that aren't really talked about. Like, 'Make A Scene' is about that awkward age in America between 18 and 21, where you're an adult and you can live by yourself, pay taxes, work, serve in the army - basically do everything that your parents do – but you're still really restricted in terms of drinking and going to certain shows and clubs. It's weird, and I don't think I've heard any songs – or seen any movies – about it. We're just conditioned to accept those weird, unnecessary restrictions, even though it's kinda messed up. And then 'Hot Mess' is really about self-doubt and death and the afterlife.
How about 'Darker'?
I guess that it's pretty much about death and the afterlife too. I was brought up with this ideal that you only die once you've done everything that you're supposed to, and that everything happens for a reason. And that's not necessarily a negative thing. It's probably the oldest song on the album too, and you know how at the beginning it has that Scratch Acid sample? That's how I wrote the song; I just took a loop of a sample from one of my favourite songs, and wrote the song around that.
Can you tell us about the album title, please?
Well, much like Northtown, it's almost paying homage to where I come from and anyone who knows me, because me and my friends always call each other "ratchet". So when I say it, I'm definitely shouting them out.
Is there anything you've learned about yourself, making this album?
I guess, if anything, I've learned patience. I mean, I feel like I'm a patient person in general, but I've learned to compromise. I've always pretty much made music by myself. Even when I was in the band Anorexia we'd write songs and just teach them to each other; there was really no collaborative process. So I think this is my first time where I let someone else at my music creatively, in a way that I've never been used to. Musically, it was 100% collaborative.
What do you think your debut says about you, as an artist?
I hope that it's saying that I'm versatile. I don't want people to get used to anything, because I'm definitely an artist that always likes to challenge themselves and to always do something different. I get bored doing the same thing, whether that's music or anything else; I like to switch things up.
So what's the plan for the rest of 2015?
Just playing more. I've only ever played a handful of shows, and now I have an album I actually have stuff to play. (Laughs) So I'm really excited about that, because performing is the best part and, ultimately, that's what I signed up for.
Do you have any goals you're working towards?
I just really want to release music as fast as possible, and to be that person that you can always expect new music from. I don't wanna have to wait three or four years between albums; that's really not something that I want. So I'm working on the second album already, trying to stay ahead.
Finally, what's been the highlight so far?
I mean, my whole solo career is a freakin' highlight; this is way past anything that I even dreamed of... I think probably my first European Tour, because it was so crazy to see how much love I have overseas – that's so awesome.
May 2015