The Hundred In The Hands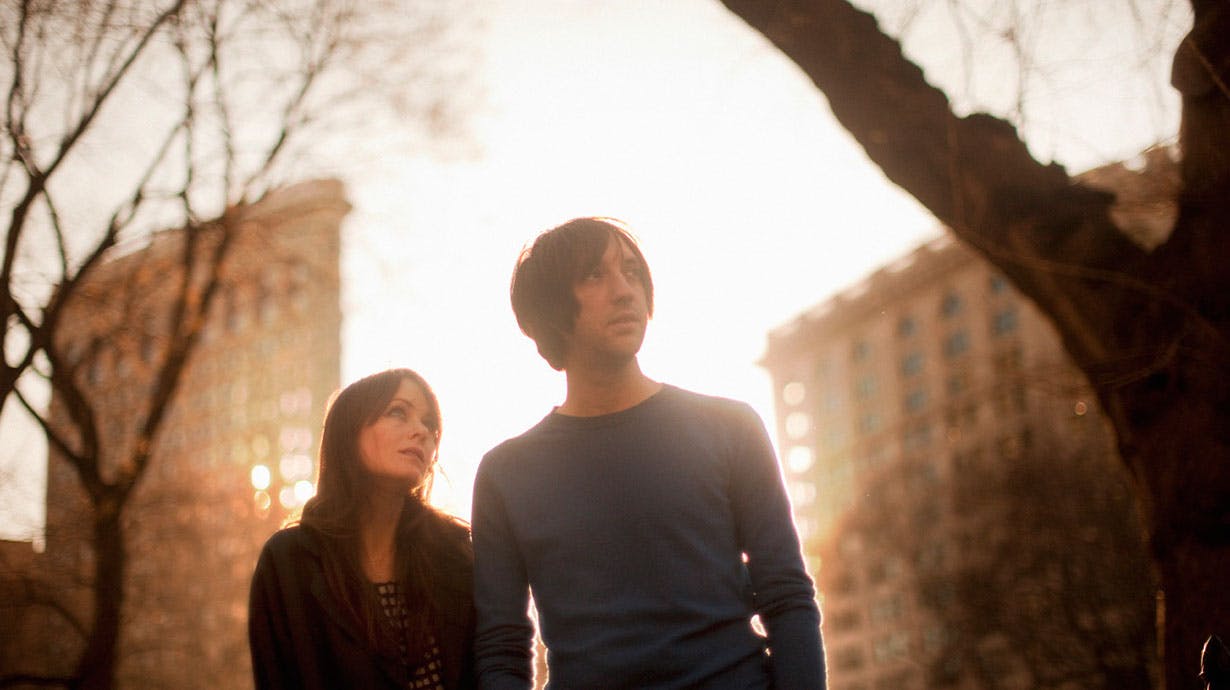 Eleanore Everdell and Jason Friedman of Brooklyn band The Hundred in the Hands talk about love, loss and the atmospheric indietronica on their latest album, Red Night.
Hi guys, can you tell us about your new album, please?
Jason Friedman: We started it last April but didn't really get properly into it until the end of September, and then it came together rather quickly. On the last record, we were still learning to write together and one way we did that was to go back to the records we loved and use them as a kind-of meeting ground. But this time, we knew what we were as a band and we tried to be more honest with ourselves and take bigger chances, which meant not relying on the records we always loved to answer our questions.
Why did you decide to self-produce?
JF: On the last record we had done a lot of recording and maybe 75% of the production on our own, and we looked to Richard X, Chris Zane and Jacques Renault to push it the rest of the way. There was a dirtiness in our versions which this time we wanted to bring to the surface more. We played with a lot of weirdo textures and sounds on the first album but it kind of sat under a pop surface and this time we thought we'd invert that.
Where did you find your lyrical inspiration this time round?
JF: It's a lot more personal. We went through some sh*t as a couple and had to get through it, and the record became a cathartic way of looking back on that and making sense of it.
One of the first tracks we wrote was 'Empty Stations', which was partially inspired by the deaths of Trish from Broadcast and Gerard from TV On The Radio. Gerard and I used to busk in the same subway stations in New York. After he passed, I had written this piece on our Zine about how lovely it used to be coming down the steps and hearing his guitar echoing. He was such a beautiful guitarist and I was thinking about it reverberating there in the tunnels and got this idea about memories and affections lingering there, as well as an idea about tuning in between radio bands and punching through to the beyond in the static.
Eleanore had been working on an early version of 'Stay The Night', which at that point was more a fictional account of a dysfunctional relationship that, like the radio bands, is trapped in the static of affection and distance. So, there was this darkness in the room and it turned into a way of us addressing things we didn't know how to talk about yet.
Once we got through all that, the first thing that came out was 'Lead In The Light', which is filled with optimism. Bridging from the darkness of 'Empty Stations' to [the optimism of] 'Lead in The Light' became the theme of the record: like a long, long night in a dark city, underground in tunnels and on empty streets, trying to get back to the one you love.
How do you feel you've progressed artistically since your debut?
Eleanore Everdell: The EP and the full length were written at the same time. I think the process of writing all those songs was really fueled by the enthusiasm we had about writing with and for each other for the first time, and how that collaboration might sound. So you hear more disparity in styles on those tracks.
For this record we were thinking of it as a cohesive whole, rather than the sum of its parts, with the sounds being more unified. I'm not sure if that's a progression but it's a slight difference in approach.
Presumably, you had a good deal of your debut already written when you signed to Warp. Has working with them since then had any impact on your sound?
JF: We actually didn't have a lot: I think we had maybe six songs in total. They gave us the time and space to write and record, and by the end of the year we had finished about 20 tracks. So it's hard to say because we have become a band really while working with them. But we absolutely adore everyone at Warp and we definitely feed off their ideas and our trips to the storeroom to grab the back catalogue.
Is there a particular track you're proudest of on Red Night?
JF: Recording the final version of 'Stay The Night' was my favourite time in the studio; listening to Eleanore build up that vocal break. It was an entire day of layering harmonies. And I also had a lot of fun with the guitar because there's actually not a lot of synths on the track. Recording and manipulating the guitars across the record, so they became something other than what they are, was really fun for me.
We love the video for 'Pigeons'! Do you take a hands-on role in creating your videos and album art?
EE: Yes, we love being involved in designing the visual identity for each record. After you've been absorbed for a long time in trying to perfect this aural world, there's almost something cathartic about giving the music a visual identity. Jason is a visual artist in his own right. He really thinks about music from that perspective rather than as a "musician" so it feels natural and really fun to work on videos and album art.
JF: We treat it more like art directors and develop the ideas we have for things visually and then seek out people with a lot more talent than us to help finish it off.
EE: The vomiting fireworks in the 'Pigeons' video, however, is all The Daniels' work.
Eleanore, you collaborated with TV On The Radio on 'Lover's Day': is there anyone else you'd like to work with in the future?
EE: Sure! I love working with other artists on their projects. Jacques Renault (who worked with us a bit on the first record) and I have always talked about collaborating again on a track of his. In the context of coming into someone else's studio for a day or two, it's less about me choosing who I'd like to work with and more about feeling like I have something to contribute to what the artist is doing on that record.
Which albums have particularly impressed you in the past 12 months?
JF: My favourites at the moment are the new Actress record, the Carter Tutti Void record that came out on Mute and the new Dean Blunt and Inga Copeland LP, Black Is Beautiful.
EE: Andy Stott's Passed Me By was a big influence on the record. Love the heavy noisy beats. And I just got the new Beach House record.
Finally, what's been the highlight of your career so far?
EE: There have been many. I still have to pinch myself that we get to tour all over the place and put out records. I'd say a singular highlight would certainly be when we signed to Warp Records. They were our absolute dream label and we just couldn't believe it was happening when they expressed real interest.
June 2012