Marina And The Diamonds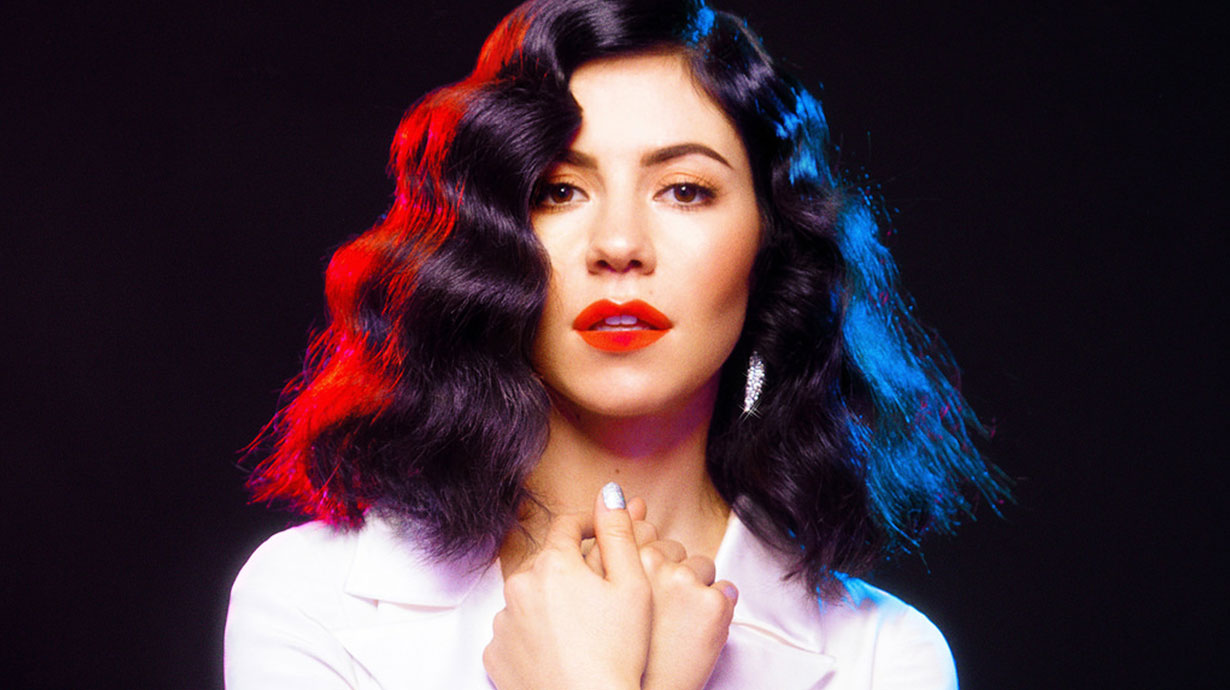 Where Marina Diamandis' last album told the story of a fictional diva through suitably synthetic sounds, 2015's fantastic FROOT pairs true life tales with beautifully organic pop productions. Here, Diamandis reflects on the change in direction and explains why she's no longer interested in chasing chart success.
On your last LP you took quite a conceptual approach, using the character of Electra Heart to explore certain sounds and ideas. In hindsight, what were the positives and negatives of that approach?
I think the negatives were that it wasn't my natural sound or musical habitat, but that's what made it interesting and eventually rewarding.
Did you find that people struggled to differentiate Electra from Marina?
I don't think so. People knew who I was before; it wasn't as if it was my first album. I think the fact that I was obviously playing a character made people form an opinion on whether they thought the music was authentic very quickly.
Is there anything you learned from the experience that went on to inform your approach for FROOT?
The main thing I learned was that popularity wasn't important to me anymore. That had a knock-on effect with the songwriting in terms of being able to write completely freely. I didn't want to think of charts anymore. It didn't really feel right to.
There's a strong visual element to FROOT too. Can you talk us through the concept please?
The visuals are centred around 70s hair and style, but have an almost digital, futuristic effect running through them. I love the idea of blending artifice with nature, and that's when I coined "neon nature" as a term to work around. And that's what my autumn tour is called.
It's a theme we're all dealing with on an everyday level; how to incorporate and blend this very new and fast growing digital world with the natural world we inhabit. It's tough to grapple with because the internet, social media and the changes they have brought about are all still relatively new.
Most of Electra Heart was written while you were touring the USA. When and where was FROOT written?
I wrote 'Gold' about three months after Electra came out. I would write on the road in hotel rooms, mainly, and walking around new cities. I did the first half of the album like that. When I returned to London, I wrote the second half of the album. The lyrics always come first; if I don't have a lyric, I don't write.
In terms of your creative approach, is there anything you purposely did differently this time?
I don't think there was an identity-driven goal on this record. Sonically, it developed as I went along. I wanted to be produced as a band: no synthetic production, just real live humans!
The main difference to Electra was co-producing everything with one producer. I didn't have the energy to do it with more than one person. I needed one person to completely understand what I wanted to achieve.
So why did you choose David Kosten to co-produce?
I chose David because his previous work indicated he could create interesting, oddball pop. He also had in-depth knowledge of the first record and was already a fan. It made me feel confident.
Alex and Jeremy from Everything Everything and Jason Cooper from The Cure played on the album too. How did they become involved?
They became involved thanks to their connection with David. Jason is massively talented and knew David already. And I'm a huge Everything Everything fan too.
Can you tell us about the lyrics on Froot, please? Where were you looking for inspiration?
I don't really look for inspiration. It either comes and I need to write about something or it doesn't. I think the main theme I see is an active interest in how human nature functions. The way we all try to marry the savage side with the civilised side interests me greatly.
Do you have a favourite track on the album?
'Savages'. It's relevant to what's happening right now. I like 'Happy' too, though.
So, what's the plan for the rest of 2015?
I have my tour in autumn, and some festivals. And some hiking.
You've been making music as Marina and the Diamonds for 10 years now. What drives you still?
I don't know what drives me anymore, to be honest. I'm proud and grateful of what I've created but I'm not hungry for the same things anymore. What makes me happy currently is seeing people feel happy as a product of the music I've written. I don't have any goals per se. Just that I want to be inspired, whatever I do.
September 2015