Fleur East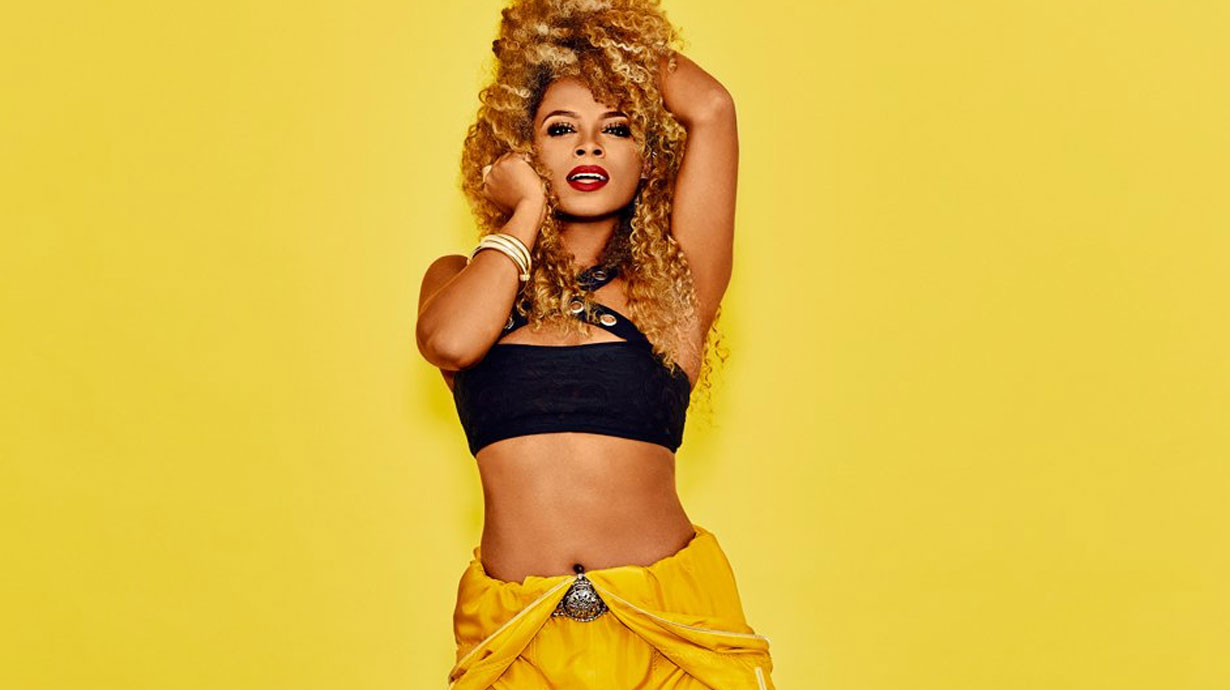 Nine years after first auditioning for The X Factor, Fleur East made it to the final in 2014, after blowing the judges away with a show-stealing rendition of 'Uptown Funk'. The Walthamstow-born singer can now be found wowing the nation with her own single, 'Sax', and she hopes to repeat the trick with her full-length debut. We gave her a call to hear about life after The X Factor and to find out more about Love, Sax and Flashbacks.
Hello Fleur, how's your morning going?
Yeah, lovely, actually: I've got a bacon sandwich, I'm comfy and warm...
And there we were thinking you were living in a world of glitz and glamour now.
(Laughs) Yeah, it hasn't changed that much.
There's quite a buzz surrounding your debut. Can you feel it?
Yeah, I can, definitely. The support's been overwhelming anywhere I go. Even when I meet people on the street, everybody's so positive. It's really, really cool because I was very anxious putting my music out, as it's my first body of work. It's been amazing.
That's probably because your music makes people happy.
Yeah, that's what music is for me. It's supposed to be fun; it's supposed to be enjoyed.
Tell us, how does the lead single, 'Sax', fit with the rest of the album? Is it all upbeat?
Yeah, it's all upbeat. We don't have any ballads, except for on the deluxe version where you can get my version of Alicia Keys' 'Girl On Fire'. But, yeah, it's very up-tempo; the perfect party album. And I think all the other songs are very different to 'Sax', but the thread that runs through the album is that all the songs salute old school music. So we've got disco sounds, hip hop, funk, soul... It's really varied but every song's got its own identity.
It sounds like you had a lot of control over how you wanted the album to sound?
Yeah, I did definitely. That was very important to me. I've waited so long for this opportunity so it needed to be what I wanted it to be.
Your album has been described as "world class" by Simon Cowell. How does that feel?
That is immense. I can't describe that because Simon Cowell, he's a music mogul. His voice and his opinions are so valuable to me that to have his support is all I could ask for, really.
And of course, he was your mentor on The X Factor. Do you think that bond contributed to you feeling more relaxed on the show when you were auditioning second time round?
I don't know. I felt a lot more pressure. Simon didn't actually remember me from when I came on the show before, but I am a strong believer that everything is planned. When I auditioned the first time, Simon was my mentor, and then subsequently he left the show for a few years. And then I remember it was announced last year that Simon was coming back to the show. I was considering going back and auditioning, and I remember I saw a tweet from Simon and he said, "If you're thinking of auditioning for The X Factor, now is the time - do it." And I thought, "Ok, that's a sign. I've just got to audition."
How has your life changed since The X Factor? Do things normalise quite quickly?
No, nothing's normalised. I can't really describe the feeling, but I remember being a backing singer to other artists, and being on huge stages, and doing live shows with other people, and singing their music, and no-one really knowing who I was. I remember having those moments saying to myself that one day it will be me, and it'll be my music. So I think one of the moments when it hit me was when I was in the rehearsal for The X Factor and I cried watching the performance because I was so overwhelmed. I just couldn't believe that it was my music, and that I was going to be performing on TV with my first song, and that it finally happened. So I think that was a real moment of realisation. But apart from that, it goes over my head, I think. (Laughs)
I still feel like Fleur East from Walthamstow. In my mind, nothing's changed and nothing's sinking in. But then, every now and then, I get a reminder when I'm walking along the road and someone will shout out my name, or someone will come up to me and ask for a picture. That's when I realise the effect that everything's having. It's amazing.
How weird is it seeing yourself all over the press?
Yeah, it's very strange. My parents collect every magazine and newspaper clipping, so when I go round they have everything there waiting for me. (Laughs)
And now you're sandwiched between Adele and Justin Bieber in the charts.
It's unbelievable. It's funny because a lot of people say to me, "Are you fighting for a number one? Is that your aim?" And for me, I genuinely feel like I've had a number one, just because I'm sitting next to them. It was such a challenging time to release music so I'm really, really grateful and happy.
Would you ever consider collaborations? And is there anyone you'd like to work with?
So many people. Speaking of Adele, how amazing would that be to sing with her? That would be incredible. But I mean, there's Pharrell Williams that I'd love to work with, I'd love to write with Ed Sheeran, I'd love to work with Labrinth... The list goes on and on and on.
Are you interested in conquering America?
I think so. I've always been a big dreamer, so it's definitely on my list of aims. But I think just to establish myself in my homeland is the main thing, and then I guess I'll venture out. It's funny: I feel like I haven't achieved anything yet, I feel like I'm still starting, like I've got so much work to do. I put so much pressure on myself, that's just how I naturally am. But I think the pinnacle for me would be to win awards – things like BRITs, Grammys. And then a world tour would be incredible.
Who would be your support act?
I don't know. I'd just love to give an opportunity to someone new, someone that's trying to break through. Because I know how hard it is in the industry to get a break. It's very important because everybody started from somewhere. You need to help each other.
That's good to bear in mind, because keeping your feet on the ground must be really difficult at times.
It's quite funny, especially in America. Everyone's really positive and bubbly and they have nothing but good things to say to you, and it's really difficult when you're in that environment. Especially because everywhere you go it's like, (American accent), "You're amazing. Oh my god, you're so great, you're incredible, you're a superstar!" And if you're hearing that all the time, you need to have a reality check every now and then because it could go to your head very easily.
What's the best piece of advice you've been given so far?
I think from Simon Cowell, actually, who said to me, "Make sure that you're not a puppet, and make sure that you're always happy and your voice is heard." And I really took that advice on because now, with my album, I've got a body of work that I'm really proud of, that I had full creative control on. I will never look back and say, "I'm not happy with that song," or, "I was forced to do this," because nobody's forced me to do anything at all. It's really been all me.
Will you be buying Simon a Christmas present?
He's definitely on the list, but I'm struggling. I don't know what to get the man who has literally every single thing he could want. It's really hard.
What are your plans for Christmas? Are you having any time off?
Yes, I actually have a few days over Christmas, which I'm so, so grateful for. Because it was touch and go at one point; I didn't actually think I'd be able to see my family that much over Christmas. So I'm just going to see them, watch TV, sit in comfy clothes and eat lots of food.
And do you have any new year's resolutions?
I do, but I think just to keep working hard. Just to work hard and continue to make music that's fun and that can make people smile.
December 2015