All Saints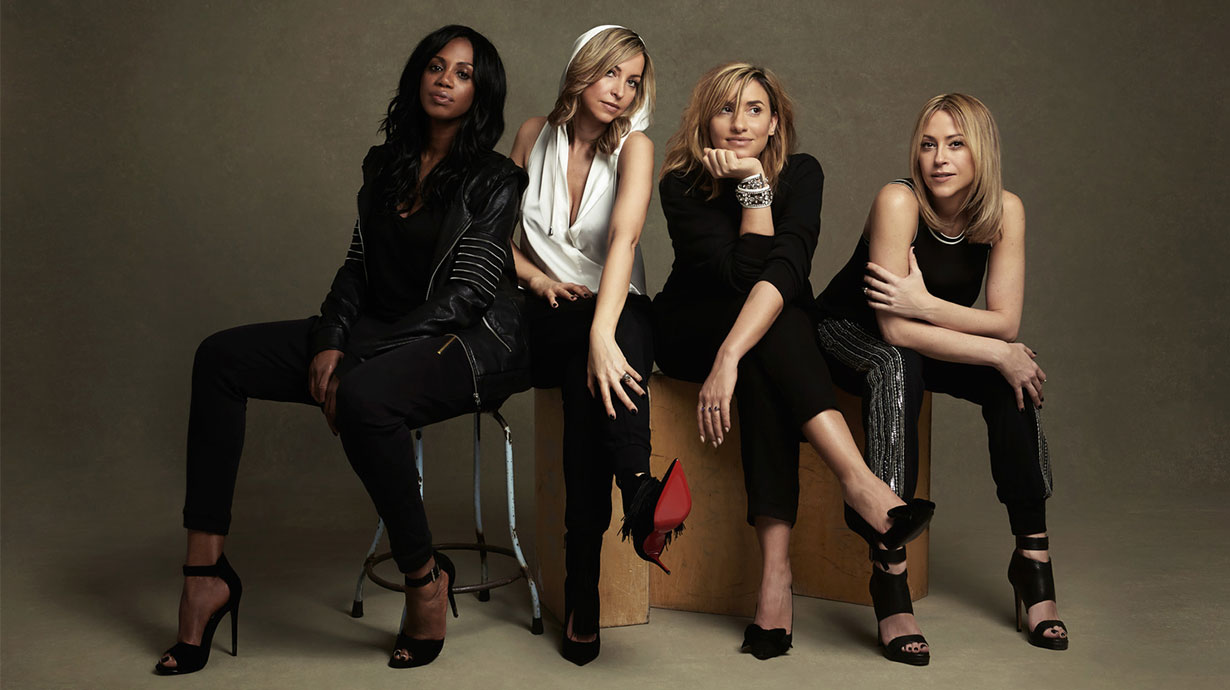 A decade on from last LP Studio One, All Saints announced their return on New Year's Day, and swiftly delivered a killer comeback single in 'One Strike'. We sat down with Shaznay Lewis and Nicole Appleton to get the lowdown on the group's decision to reform, and to discuss the inspirations behind their hugely-anticipated fourth album, Red Flag.
Welcome back guys! You really must be feeling the love.
Nicole Appleton: Yes, it's overwhelming actually, it's really nice.
How long has this comeback been in the works?
NA: A couple of years ago we supported the Backstreet Boys on tour, and that came about by them contacting us and wanting us to do it. We said yes straight away, one of the reasons being that back in the day, performing was one of the things we didn't get to do so much. So this just felt really easy to do, there was nothing else being asked of us, so we did that and had a really good time- it felt a bit like running away and joining the circus. Once that had all ended, our manager said to us, you guys have so much fun together, and we didn't want it to end: we loved the idea of performing together, of doing more shows, of singing more, so he suggested that we went in and did the new album and we thought, well "why not?"
And that sort of chemistry isn't easy to come by. Can you imagine being in a group with anyone else?
NA: No, we've always said we would never do it with anyone else. Even if one of us dropped out it wouldn't happen. It has to be the four of us.
The industry has changed a lot since you first emerged on the music scene. Do you feel it's a more positive environment for women these days?
Shaznay Lewis: A few things have happened. Social media is great, and it's so good to be able to have that direct contact with people: you cut out the middle man and an artist can voice themselves. I also think with regard to female artists, over the years there's been so many female artists who are coming through the works, who are really changing the game. I really respect a lot of them. I love Adele, she's always herself, and I also love artists like Taylor Swift, who's not afraid to be a gamechanger, and dance to the beat of her own drum. I think there are so many strong women who are in the industry now, and I love that. In a world like this – and in the industry that we're in – it's very important to be a strong woman.
How will it feel getting back on the stage again?
NA: We're really excited [by] anything to do with the word performing! If you think about how long we've been around, I don't think we're 100% familiar with our audience, and so when we do our show in April it's a massive deal to us. That's going to be the second time we'll have done our own show, and we are going to get to have a really good time, and just be upfront and personal with the people who have supported us over the years.
You've also got V Festival coming up. Is the prospect of performing in front of hundreds of thousands of people nerve-wracking?
NA: We'll probably be absolutely giddy, but once you're on stage and you know the reaction you're going to get, you can start to settle down and enjoy it.
You mention that you enjoy using social media, but have you found that sometimes it can be a curse as well as a blessing?
SL: I only use it to do with work; I don't use it for anything personal, so I don't really get into that side of it. Back in the day, there were so many people you had to go through to make a record, whereas now, you can do it yourself, and it's clearer as to who is buying your record. In a world where the way of selling music isn't the same as it was before, you need these channels a lot more. Whether [social media is] the right way or the wrong way, it's definitely something you need in today's world.
So what can we expect from your new album, Red Flag?
NA: If I could describe it, I would say it's a really strong record. We're all bouncing off the exact same page. We made the record by ourselves, we didn't go and get signed to a major label and have an A&R coming down to the studio and looking over our shoulders. We made the record ourselves so we had to be a lot more involved. We picked it apart to make sure it had the 12 songs that we wanted on there. It was a great process, and we love every single song on it.
Can you tell us more about the album title?
NA: We've got a song on the album called 'Red Flag', and it's one of the last songs we wrote, and we felt like that pretty much summed up the whole record. There are so many different situations that the four of us have all gone through since becoming grown women, and we felt that 'Red Flag' summed up a lot of what we were trying to say. I'm sure there are going to be lots of women – and men as well – who are going to be on the same page as some of the songs.
Shaznay, you're a gifted storyteller, but Nicole, how does it feel when she's telling your story, on 'One Strike'?
SL: When I wrote it, I actually hadn't told anyone what it was about. I assumed there would be an undercurrent that everyone would know, but it would never be said, but then it ended up being said. But if nothing had been said then no-one would really know, and it would just be what it is. But yes, I wrote it for my friend.
NA: I am so honoured that she did. Shaz was like my therapist. I was on the other side of the world and she was on the phone to me for hours, just to pull me out of wherever I was, and then with this song... You don't find too many people like that.
Shaz is such an amazing songwriter, and she does go for the emotions and do real stuff. I knew from chatting to her through all that time, that it would spark something. Lots of things were going on and I didn't realise, then when she told me it was like, wow. The song's also got such an uplifting side to it as well, that I don't feel sad singing it; I feel liberated.
SL: And it's not just just Nic, or anybody else – these kind of things go on and on in life.
Your harmonies sound incredible. What's your secret?
NA: No dairy, especially yogurt! We usually just have hot lemon and honey. We're not as professional as we should be, to be honest. We do really bad scales where no-one's really focusing properly, and if we laugh too much then it hurts our throat. We have to learn to respect our vocal chords a bit more. The aim is just to have fun!
Finally if you had to offer a piece of advice to anyone starting out in the industry, what would it be?
NA: The best advice is just to stay strong in anything you do. Be grounded because it's a horrible fall if you suddenly get knocked down.
April 2016