Say Lou Lou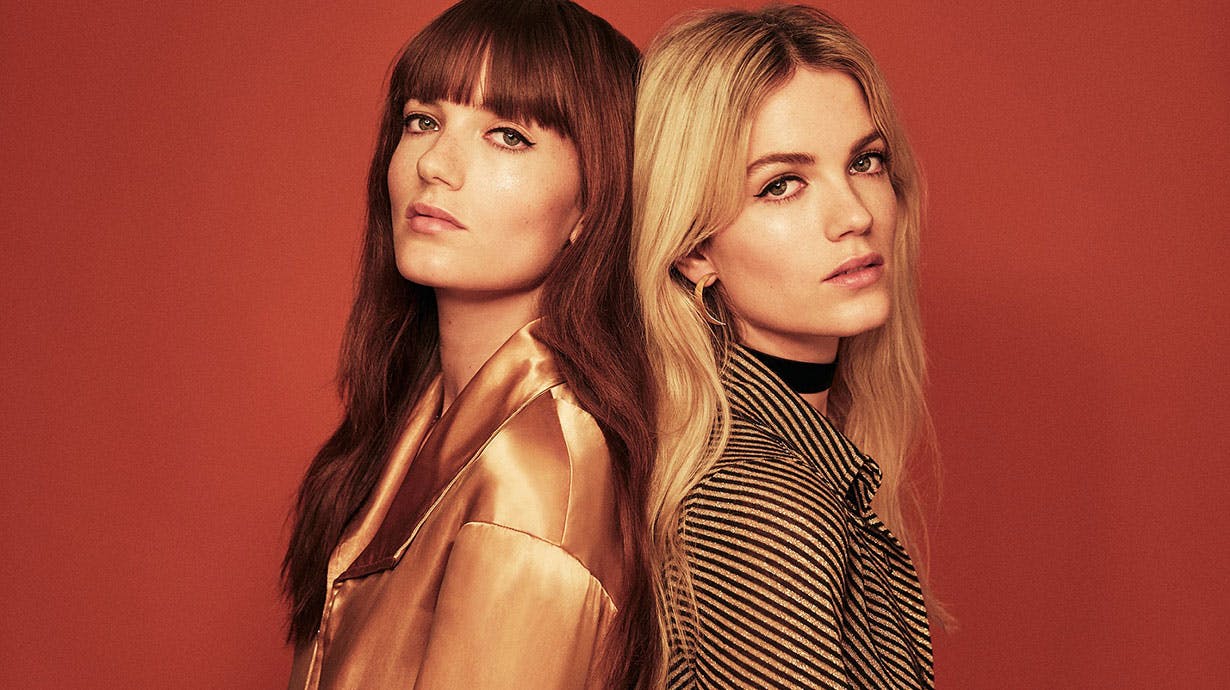 Long-listed for the BBC's Sound Of prize back in 2014, twin sisters Say Lou Lou are only now unveiling their hotly-anticipated debut. Here, Miranda and Elektra Kilbey explain why they made a conscious choice to take their time, and share some of the source material, subjects and struggles behind Lucid Dreaming's dark disco.
Where are you today, and what are we interrupting?
We're in Stockholm. We just finished our Scandi-tour and are catching up on some sleep and doing some promo for the upcoming international release of our debut album, Lucid Dreaming!
Can we talk a little bit about your musical background please? What are your earliest musical memories?
Listening to our parents and uncles sing and play. Both our parents are/were musicians, as well as our uncles on both sides of our family, so we were always surrounded by music – artists like T. Rex, Jeff Buckley, Kate Bush, The Beatles, The Smiths, Tori Amos and Cowboy Junkies. And we were very [much] encouraged to sing and talk about music.
When did you first start making music yourself?
We wrote and recorded our first song as three-year olds, but started doing it "seriously" as 18/19-year olds.
Who were the artists that inspired you to start making music?
Definitely Kate Bush! Also The Cardigans, Cocteau Twins, Jeff Buckley, Spice Girls, TLC, Britney and the female 90s/early 00s pop wave.
A fair bit of time has passed between you first appearing on the scene, and your debut coming out. How long ago were you signed?
We were signed to Columbia (Sony) for quite some time, but we decided to release the album independently through our own label Á Deux around October.
Was it a conscious decision to take your time with your debut?
Yes and no. The bigger reasons as to why it's taken time are practicalities and logistics, and us touring and travelling at the same time as writing. There are a million things we could have done differently, but the project was so new when we first got attention, we needed to get comfortable, get used to playing live and find ourselves before we could finish the record.
Were your record label supportive in that decision?
We all felt we should take our time with the record, perhaps in different ways, though.
For the benefit of anyone who hasn't heard Lucid Dreaming yet, what can they expect?
It's definitely a pop-record… with dark, disco ethereal undertones. The general goal was for the record to feel cohesive and for the songs to feel connected through an element of a surrounding, dreamy soundscape. The record is an eclectic mix on many levels but choosing the tracks in the end came down to how well they complemented each other, and told two sides to a story.
We wanted the record to have a sense of nostalgia, without it feeling too retro. We wanted it to feel ethereal but still have rhythm, like a mix between Cocteau Twins and Chromatics. But we have changed our minds, and worked and re-worked, the material a hundred times, so the vision changed with the process.
How does the creative process works between the two of you?
It's definitely a collaborative process, and a flexible one too. Each situation and each song has a different dynamic, so sometimes one of us takes the front seat and sometimes we both do.
Is there ever any conflict when it comes to decision-making?
We both have final say, and we have an unspoken veto rule. And neither of us wants the other to be unhappy with the music we put out.
What attracted you to work with Liam Howe, Hannah Robinson and Jim Eliot on the record, and how did their production approaches differ?
We were introduced to all of them through mutual contacts that had a feeling we would get along. And so we did! All three have a back catalogue of amazing songs. They're all different people, with different experiences and temperaments, so extremely different. But, to generalise, Hannah is pop, Liam is dream wave and Jim is disco to us.
Lyrically, where were you drawing inspiration from for this album? Are the songs autobiographical?
Most definitely. We drew on our combined experiences, our feelings and relationships, so the songs deal with subjects like teenhood [sic], desire and unreciprocated love. A lot of things we've listened to, read or seen are digested and lay somewhere in the record. It's hard to tell what and where but it's there. But in terms of the sentiment on our part, it's looking back and trying to make some sort of sense of our experiences and relationships.
You're both very hands-on, in terms of artwork and music videos too. Have you had to fight to retain that control?
Yes; keeping control has been a struggle on many levels. We want the visuals to feel representative of our music, and we want to work with people that we know, that we respect and admire, and who feel the same way about us.
Can you tell us about the inspirations behind the visual aesthetic for Lucid Dreaming?
The visual ideas were centred around the concept of lucid dreaming; sleep, dreaming and awakening. We wanted the viewer to feel like he/she had caught us in a moment of either of those – or somewhere in-between – capturing some kind of sensuality and vulnerability. We also wanted to play around with dimensions, of it feeling like there were several stories to every image.
Do you have a favourite track on the album?
'Hard For A Man'. There is something earnest about it, while in many ways being sarcastic and patronising. It feels like there is a glimpse of a side of our personalities that doesn't come out very often.
So what's the plan for the rest of 2015?
We are playing in London, at Heaven on the 8th of April, then we head off to America and play four shows: two in NYC, then L.A. and San Francisco. We have a few festivals booked for the summer, but we are very keen on going back in the studio. We're itching to write new material.
Finally, where would you like to be with Say Lou Lou, this time in 12 months?
In the midst of wrapping up a second album…
April 2015