Palma Violets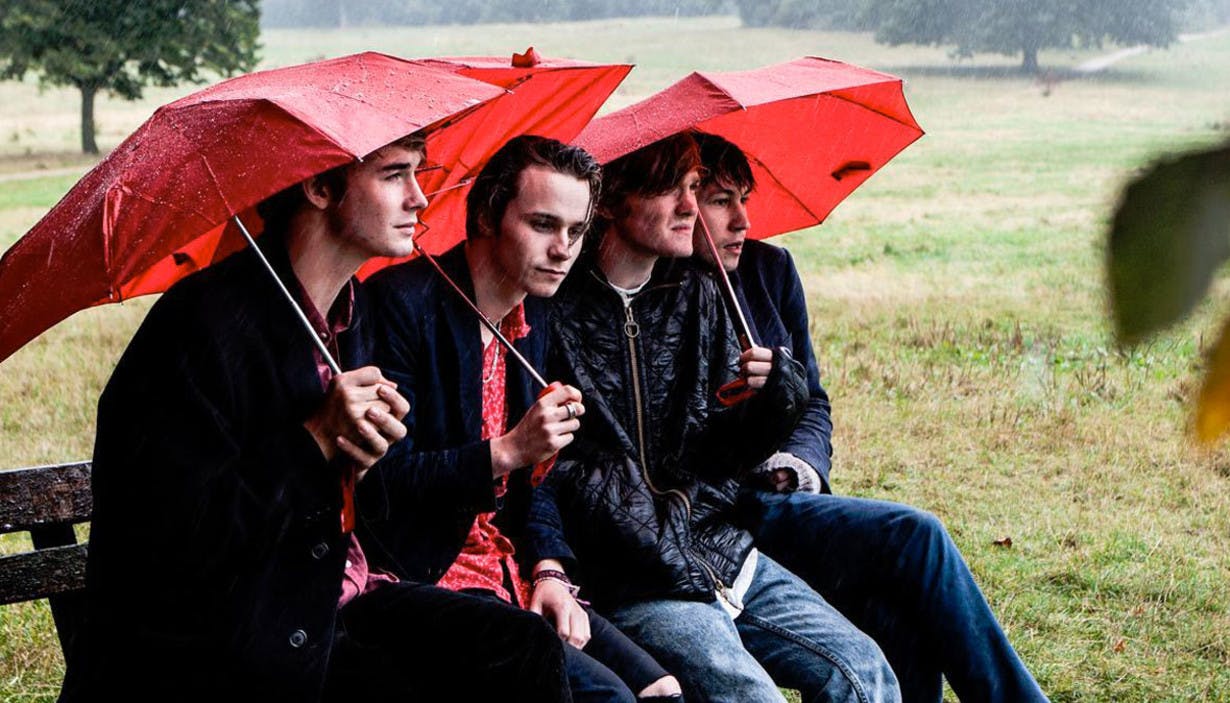 Tipped by the BBC's Sound Of 2013 committee and adored by the NME, Palma Violets are unquestionably the guitar group of the moment. Will from the band talked to us about their rapid rise to fame, what we can expect from debut album 180 and why having fun is all that matters.
Hello Will, how's the tour going?
It's been amazing. Absolutely amazing. Every night's been great but in Leeds the crowd went crazy. Before we even got on stage someone had started a mosh pit. And then Chilli stage-dived and Sam jumped into my kit…
You've just come back from Japan, haven't you? How was that?
Japan was incredible… I've always wanted to go to Japan. And the whole touring thing is so different there. Because we went to America and it was cool but it was really easy 'cause we got told where to go. When we were in Japan it was like being a kid again. I'd lost my phone and my bank card, so I was just going out with people and I couldn't understand anyone. It was just this complete culture shock.
The whole past year has been insane – it's all happened really, really fast. We've been so lucky to have this support and hype around us because the momentum of everything has just picked itself up.
How long have you been together as a band?
Since September 2011. Basically, Sam, Pete and I all went to school together, and we all went to Reading Festival. We were sitting round the fire, and Sam was playing guitar, and Chilli heard him and came over and said, "I like the way you play guitar." They talked about music and from then stayed being friends. And then about a year later, when I finished school, it was like, "Do you want to form a band?" and we got Chilli involved.
What's the story behind your name?
Everybody in the band likes the sweets [Parma Violets] and we had the name spelled that way but there was a band up in Scotland with the same name. So when we were first getting seen, some promoters tried to come to one of our gigs but the Parma Violets from Scotland were playing the same night; [the promoters] got on the train all the way to Scotland, only to realise it was the wrong band. (Laughs) We had to change the spelling of "Palma" just to un-confuse people!
There's been a lot of talk in music press about 2013 being the year that guitar music returns. How do you feel about being the poster boys for the resurgence?
It's an honour, really. I don't really think about it too much because then all that pressure would start to get to you, you know? But guitar music's never gone away. It's just that popular music wavered towards dance music massively in the last few years, and people were less likely to look for good guitar bands themselves. There are loads of great guitar bands, though. We're really big fans of Childhood; they're our boys.
The NME, in particular, have been very vocal in their support for you; awarding 'Best of Friends' 'Track of the Year'. Has that heaped the pressure on?
No, that was a great help. That 'Track of the Year' award was such a surprise, because there were some really great tracks out there, and we were just like, "Wow, we can't believe we won that category."
So, how does the creative process work for you? Is it collaborative?
Definitely, yeah. Someone might bring an idea, but then we all get together and just muck around in the basement of Studio 180, and the songs just come out. All of the songs on the album were created there; if it wasn't for that place we wouldn't be the band we are today, I don't think.
Debut albums are a statement of intent. What do you think 180 says about you?
Oh, that's a good question. I hadn't really thought about it that much! (Laughs) I need a good answer here; one that will make us look really cool… Ok, ok, I know: that album was something for us. We didn't become part of a scene and we didn't follow the rules like everyone else: we did it our own way. We let the monkey come to us!
The album has a really nostalgic, rock 'n' roll sound. What were your musical reference points for the record?
We all took different ones, because we're into hundreds of bands between us. But Nick Cave was a big one: Nick Cave & The Bad Seeds are sick. The Clash, as well. And, for me, definitely The Velvet Underground.
What attracted you to work with producer Steve Mackey?
He was someone that Rough Trade suggested because, when it came to choosing a producer, we didn't have a clue. We had some ideas – a couple of American producers – but then it was like, "Actually, let's just keep this English. Let's make this something we can be properly proud of." And then Steve came along to one of our gigs and got in contact with us and said, "Can we do something?"
It was a new thing for him too: he just really wanted to do a raw, edgy, rock 'n' roll album. And we thought, "The guy's in Pulp: he probably knows what he's talking about, so let's just go with that!"
How was he to work with?
Amazing, absolutely amazing. He's got a really great sound engineer as well, and they knew how to capture our sound perfectly; how to capture that sort of live feel. And we just clicked. We tried other producers but we it just didn't work with them in the same way; he completely understood us.
He would sit back and let us take the reins but make sure that we were making the right decisions, if you know what I mean? If we wanted to try something out and he knew it wouldn't work, he'd still be like, "Yep, let's try it out." So then we could then turn round and say it didn't work; he let us make mistakes.
If you had to pick one song on the album that you're proudest of, which would it be and why?
For me, it's '3 Stars'. We'd had a whole day in the studio of trying to record these songs and it wasn't going well, and we were just leaving when Steve was like, "OK, let's just record '3 Stars' and then we can have a basis track for tomorrow." So we did it and then that was it, in one take. Others, we had overdubbed vocals and stuff like that but that track is completely as it comes.
Why 'Chicken Dippers'?! Are we missing some subtle double-meaning?
No, no. When the record label came down to the studio, 'Chicken Dippers' stood out really early on as one of our strong songs, and they were like, "Oh, that's great! Which one's that?" And we were like, "Chicken Dippers." And they were like, "What?!" It was basically just so we could have a song called 'Chicken Dippers'.
Ok then! So, what's the best thing about being Palma Violets?
I think, the festivals. We play early on, we get free tickets so we can get friends in, and then we get paid as well! The whole thing's scandalous. (Laughs)
What festivals are you playing this year?
We're playing Benicassim; I can't wait for that one, we've got loads of mates going to that. And we'll be at Coachella. Have you seen the line-up for Coachella?! It's incredible… I'm not even bothered about playing, I really am not. If it goes t*ts up I know I can still spend two weekends having a f*cking sick time!
What's the plan for the rest of the year?
We're touring 'til Christmas, on-and-off, I think. And then we'll try to find some time off to write some more songs along the way.
And what would you like to achieve ultimately?
I guess to try and let people know that the idea of achieving perfection shouldn't be what motivates you. I mean, everyone always wants to be the best at this, the best at that; the fastest at this, the fastest at that. And you just completely lose sight of what matters, which is just having fun along the way.
February 2013