Busted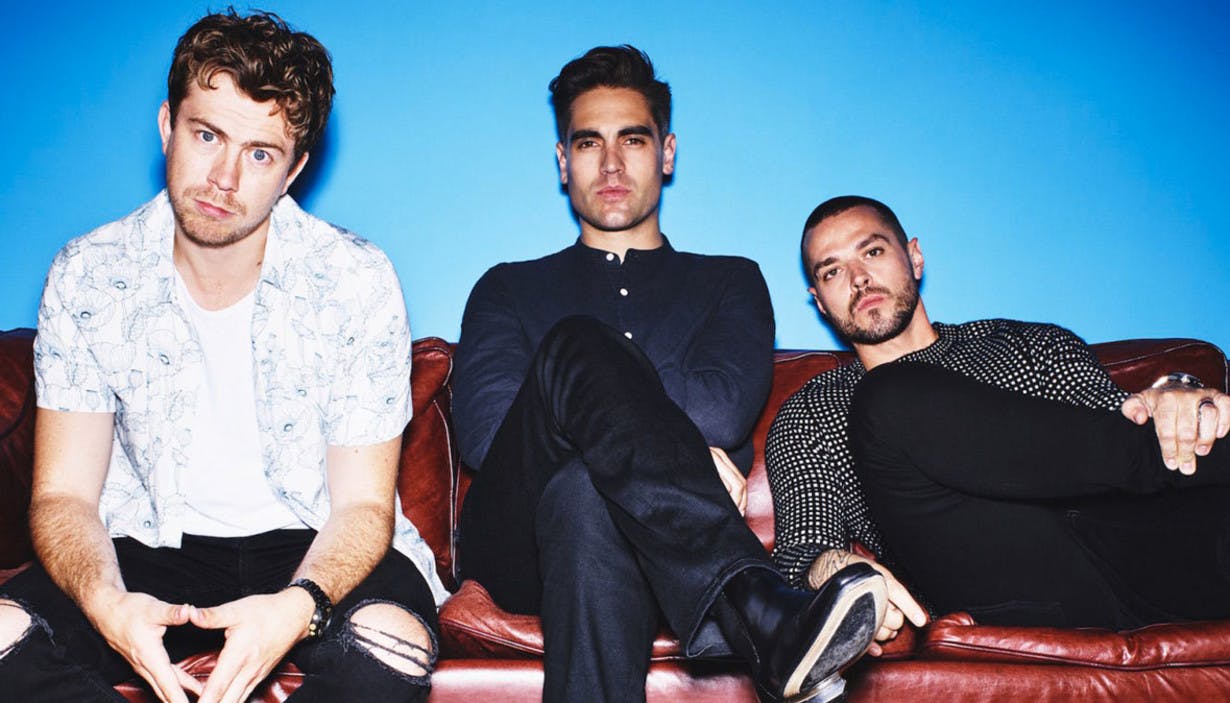 Fresh from finishing up their 'Pigs Can Fly' arena tour, Busted are unveiling their third studio album, and first since 2003's A Present For Everyone. We sat down with the trio to talk relationships within the band, touring and the synth-driven direction on new LP Night Driver.
The three of you are back together again. What's the atmosphere like?
Matt Willis: To be honest, this feels new. It doesn't feel like the old days, it feels different. We weren't a band for 10 years but we were all doing things in that time, so we came back together with a load of new skills, and a new mindset for recording. So it was a different experience, it wasn't like the old days. It was the best recording experience I've ever had.
James Bourne: It's like we've been given this chance to make our first album again, which is what we've done, really. We've gone back with a very fresh approach. It was like: we're coming back together, we're starting over and how are we going to do this?
Tell us about the change of direction, because Night Driver is very different to your previous material.
Charlie Simpson: It is. It was very natural though. We flew over to L.A. to record the album and we didn't really take any demos with us. We wanted to just set up in the room, get a load of instruments out and really write and record at the same time, and that was a new way of making a record for us. We'd never done that before and it came about very organically, and I think that's what makes the record very special: it wasn't really pre-thought, it was just very natural.
People are saying the album has Daft Punk vibes...
JB: I mean, it does, but it's really easy to pigeonhole stuff. I love Daft Punk, so I would definitely take that as a compliment and I can see why people say that, but it's one song on the album; none of the other songs on the album are like that. I just want people to hear the whole album.
If you had to sum up the album in three words, how would you describe it?
JB: Eclectic is one.
CS: Neon. And maybe funky? (Laughs)
And what about McBusted? Do you plan to pick that up again?
MB: I think we just want to focus on Busted now. We are so excited that the three of us are back together, and so excited that we've made this record together, that all I can think about is Busted. I have no time to think about anything else right now.
JB: It's like getting married and then going to the wedding and harping on about the ex-girlfriend. (Laughs)
So, you have a tour planned in January. Have you started rehearsing?
MW: We started the other week. We went in and played a few songs that we thought might be difficult to play live, because this is a new vibe. We're used to setting up as a bass player, two guitar players, a drummer, and that's how we roll, whereas this album is completely different to that. So we had to go into it with an open mind about how we're going to play it live. We go back in January for a bit more rehearsal and then we're off.
How different will this tour be to the 'Pigs Can Fly' tour earlier this year?
MW: I think this is a completely different tour. We wanted to go into more intimate venues this time and really get people to embrace this new sound with us.
CS: Come on the new journey with us.
MW: We're going to be going into these venues, we're going to be playing the new record and we're going to be playing a load of old hits as well. The album will be out by then, so you'll have time to soak it in and then come and see it played live and hear a few of the old favourites as well, in smaller, more intimate venues.
CS: We're gonna be playing some of the venues that we haven't played since our very first tour. You won't have seen Busted in a more intimate setting than you are going to get to do on this tour. And we're super-psyched.
MW: Especially a couple of venues; we've never played those kind of venues before so we're really excited about it.
Are there any nerves about taking the new material into these smaller venues where you can see the whites of people's eyes?
CS: I mean, I live for that stuff, you know? Also, we've been rehearsing recently, and hearing the new songs live, so there's no nerves anymore. It's just pure excitement to be able to get out and show people the new songs, and what it sounds like live. So I can't wait, man, it's going to be great.
Is there any other big dream for Busted in 2017?
JB: There are lots of things I want to see happen for Busted in 2017. I want people to listen to us in different countries...
CS: I think we want to play to as many people as we can across the world. It's just the start of a new journey for us; we want as many people to embrace it as we can. We're very proud of this new record, and it's all about Night Driver next year.
JB: The reunion is real and it's here. The lights are on and the engine is running. (Laughs)
November 2016