Elbow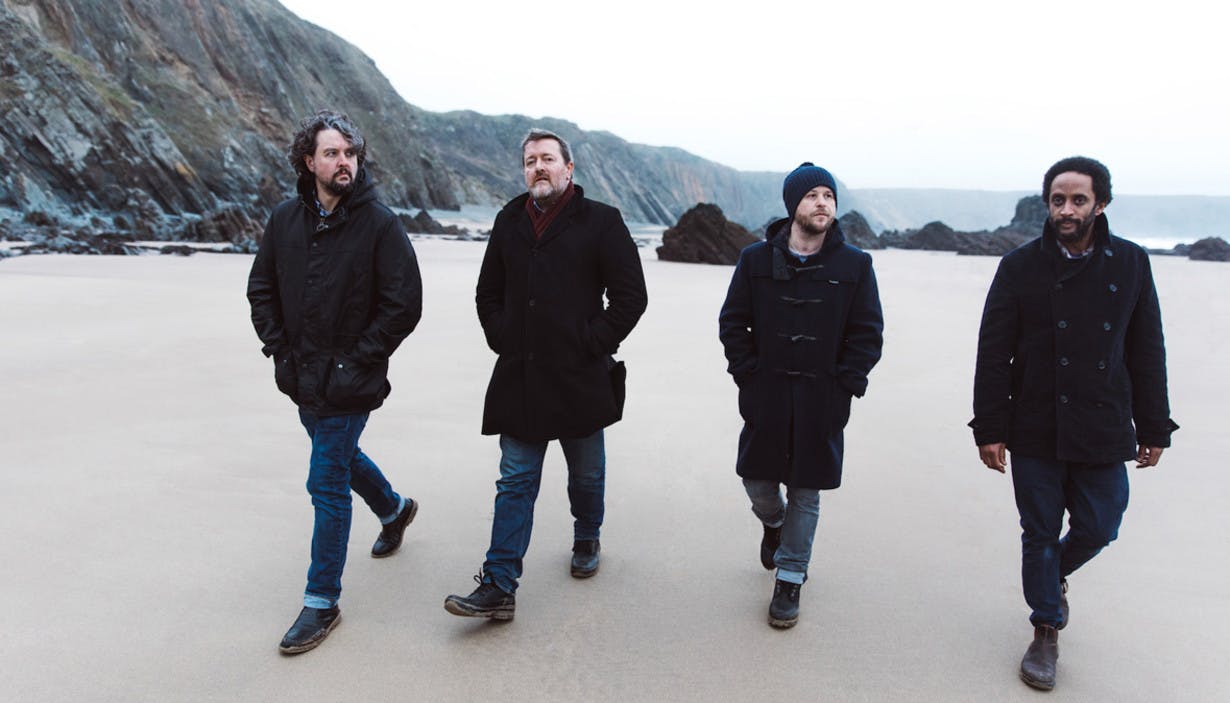 Having parted ways with their drummer, Richard Jupp, after The Taking Off And Landing Of Everything, Bury's finest had to readjust to life as a four-piece. We caught up with frontman Guy Garvey to talk fresh beginnings, new LP Little Fictions, impending fatherhood and hanging out with David Hasselhoff.
Congratulations on Little Fictions, Guy. You must be delighted with the reception it's received.
I really am, you know. It's not something I ever take for granted. It's just lovely when people enjoy what you've been doing, because I'm still enjoying it.
Do you read your own reviews?
I'd like to be cool and say no but I absolutely pore over them. (Laughs) Although I did make the mistake of googling myself once to try and find a good Elbow review to cheer myself up, and there was a picture of me pulling a really horrible face, and a long list of insults underneath the photo. So that's something I don't do anymore. (Laughs)
We hear you're about to become a dad too! Congratulations!
That's right, yeah. [At the] end of March, so I pretty much come off tour and – if junior's on time – a few days later I'm a dad.
Have you been getting fatherhood tips from the rest of the band?
Yeah. I remember as and when they all became dads, one after the other; it was always adorable listening to them ask each other advice. Because if you've known any group of people since you were 16 – and, in fact, they've known each other their whole lives – you tend to have quite a childish sense of humour where each other is concerned. And then suddenly there are these very adult conversations about child-rearing. Being a dad has brought the best out in all of them, which sounds clichéd and mushy but it's absolutely true. If I didn't think they could be more extraordinary gentlemen than they already were, they grew another foot taller in my view when they became dads.
You're renowned as an extremely tight-knit band, so losing your drummer in-between albums must have been a big deal?
Yeah, and he's not dead, just to clarify: he's still drumming for someone somewhere. He's still playing and he's teaching drums now, which is something he's always been interested in.
Was Richard's decision to leave the band a shock?
It was difficult, and a mutual decision. But, yeah, of course it was very sad, and even though it hadn't been right for a while, it was still a bit of a shock. We had a writing trip to Scotland planned to start this record and it was only a couple of days before that trip that it happened. And we went on the trip anyway.
So the two songs that you can hear on the record that were written up there in Scotland are 'Head For Supplies' and the last track, 'Kindling'. 'Kindling' was its working title because the sound of a bag of kindling being dropped is part of the percussion loop. We had to find new ways of putting beats together. We stole some, we sampled others, and we programmed a lot and, yeah, things like banging tambourines and dropping bags of kindling.
I think in those two tunes you can hear the melancholy. It was January, it was the week that Bowie died as well, and we were perched around a great big fire in this stately home that we rented. It was a big, old, draughty place and even with two layers on and a roaring fire it was still pretty chilly, so [there was] plenty of whisky drunk as well. And it was just throughout that week that we decided not to replace Jupp because he's too much a part of our story. We've got Alex Reeves – who played on my solo album – coming out live with us, and he's perhaps one of the only people that could do the job, because they're very big shoes to fill. But yeah, it will just be four of us from now on.
You refer to those two songs as being melancholy, but as a whole the album is really uplifting and hopeful. Was that the aim?
Yeah, it was kind-of, and not just because of what happened with Jupp, but because of the news anyway. People were focusing on 2016 being a bad year for one reason or another, but really the last 10 years have been increasingly scary and, if I'm scared, who knows how your average British Muslim feels. We're more and more divided, and there are more and more hate headlines. It's terrifying. So we decided to make a shamelessly optimistic, uplifting and positive record. The only problem we've ever had with doing that is you wonder if it's cool to do that but, you know, I spent years trying to be cool and it's exhausting. And the minute you start considering being cool, you're not cool.
Lyrically, you've always been pretty candid. Are you still drawing on personal experiences?
Yeah. Past and present, you know. My wife's very posh and she only does a northern accent when she's criticising me and I've warned her that I really like it when she does a northern accent, and she shouldn't let me get used to it. But yeah, she'll read a lyric and realise it's not her in the lyric and she'll go, (exaggerated northern accent) "This one's not about me, Guy." (Laughs) Because most of them are. But she knows it comes from wherever it comes from. Personal experience has a resonance that made-up things don't, and it doesn't matter how good you are at faking it – people always notice when you're lying.
It's the BRIT Awards soon – you won Best British Group in 2009, beating Radiohead, Girls Aloud, Take That and Coldplay. Do you remember who presented your award?
David Hasselhoff.
How much of a dream come true was it meeting David Hasselhoff?
If you'd have told me aged nine that Michael Knight was going to give me a music award one day I wouldn't have believed you. I did make a huge mistake though. David Hasselhoff has had trouble with alcohol addiction and I asked him to come for a pint. And when I looked back it looked like I was being a churlish, rock star, a**hole but I was genuinely inviting him for a pint, I just didn't know the sketch.
He was also very generous in a showbiz way. Afterwards, just before we went live with Fearne Cotton in a caravan, he said, "What are the dates, when are you playing next?" in my ear, and then when Fearne started interviewing us he was like (booming voice), "I'm gonna go and see these guys at Brixton Academy next week." And he did a proper old skool, showbiz plug. So he can do no wrong, David. And of course he knocked the Berlin Wall down for us, didn't he?
What else can you remember about that night?
I had a huge argument with my girlfriend, and I'd ordered champagne and strawberries and cream and so I really sulkily ate and drank it all on my own, with her lying next to me. (Cackles) Like a sulky git. Oh, and I hung out with Take That.
You've won a BRIT and the Mercury Prize but what else is still on the bucket list?
Well, I mean, playing the closing of the Olympics was the biggest gig we've ever done. I didn't think we'd ever actually play to over a billion people so that was pretty good. First band on the moon? Something like that. There's plenty of things I want to do, and most of it's fun. Like when you get to meet your heroes, or even people who aren't your heroes. I met Lars Ulrich briefly when we were supporting U2 and I'm not a Metallica fan, but I'm a huge fan of Metallica, if you know what I mean? Since I saw the film 'Some Kind Of Monster'.
It's the most candid documentary about ridiculous adolescence in grown men that I've ever seen. I cannot believe they let it go out; it's every rock star cliché, on steroids. I watch it at least once a year. So when I met Lars I think he could tell that I was one of his ironic fans, rather than one of his actual fans. Maybe it was something to do with the way I went, "LARS! NO WAY!" with a big grin on my face. And he went, "How you doin'," and then moved on.
Your UK tour runs from 26th February until the end of March. Will this be the first time you've performed these new songs live?
Apart from the odd TV thing, yeah. It's the first time going out with a different drummer to Jupp and, yeah, it's exciting. It's sounding really good in rehearsals. It sounds really clichéd and as showbiz as the Hoff but it really is like hooking up with old friends when we get back on the road. It's lovely.
What are your plans for the rest of 2017?
Yeah, we're doing a hell of a lot of forest shows, all over the country. If you've never been to one of these outdoor events, they're great: wrap up warm, bring a hipflask. They're great for kids because kids can run around and what have you, and the setting; if you've got a clear sky at night, they're just magic. So yeah we've got the tour throughout March, all over the UK. Fezzies in the summer and in-between those things, becoming a dad.
Does Glastonbury figure in those festival plans? It's a special one for you guys, right?
Having such a young baby, I'm not sure I'll make it to Glasto this year, which is very unusual for me. I'm normally there even if we're not playing. But our music completely changed on account of playing the Glastonbury festival. Weirdly, the singing at the end of 'Grace Under Pressure' prompted the title Cast Of Thousands. That's the first time that everybody sang along and I thought, "Hey, we should write stuff for crowds to sing," and without that we wouldn't have written 'One Day Like This', and without 'One Day Like This' I wouldn't have such a comfy home. (Laughs)
February 2017