Zara Larsson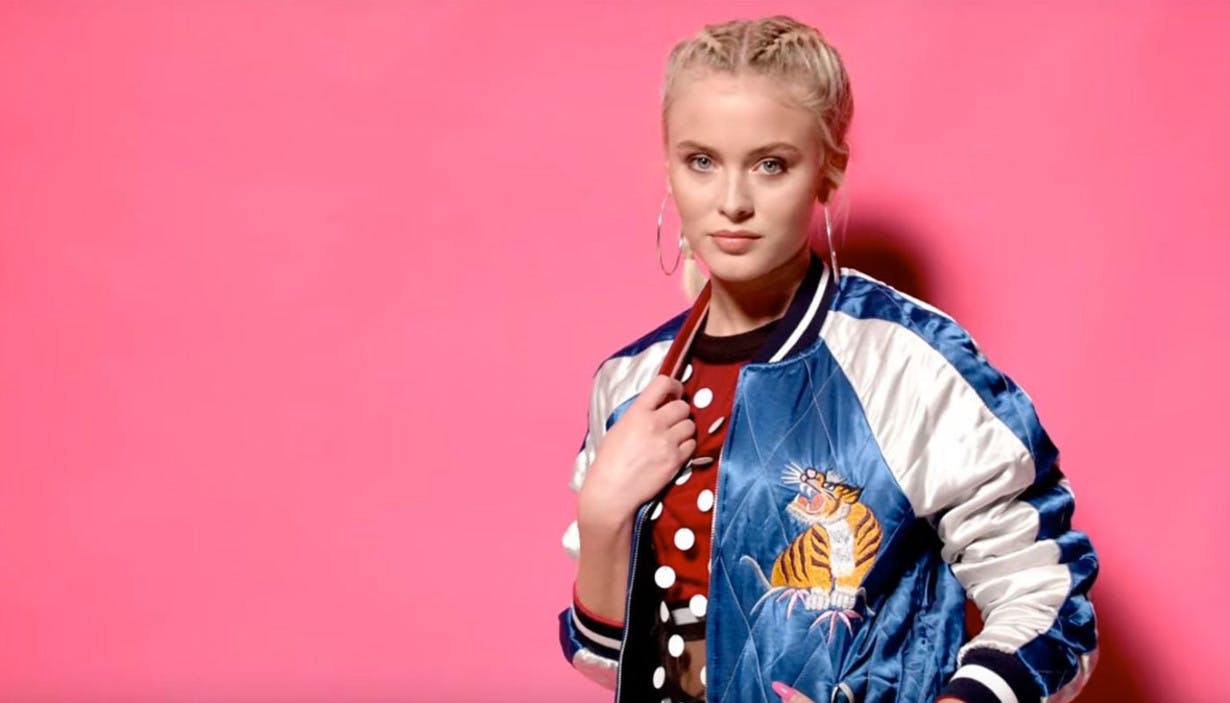 Almost a decade since she first found fame on Swedish talent show Galang, Zara Larsson is a huge star back home and set to take over the rest of the world with her international debut, So Good. We grabbed 10 minutes with her ahead of the BRITs to talk new music, internet trolls and how's she getting on with her goal to become "the number one artist on the planet."
So it's the BRITs tomorrow, and you're nominated for best single with Tinie Tempah. Are you attending?
I'm going, and I'm going to the after parties – it's gonna be great fun. I've never been before. I'm not performing; I'm just going to go and enjoy myself. According to the people I've been talking to, the BRITs is one of the most fun things ever, and I hope it is.
Who should win Best International Female?
I think Beyoncé. I think she deserves every award she is nominated for, basically.
What did you make of Grammys last week?
Well, I wouldn't vote for Adele for that one, just because I love Beyoncé and I think her album was revolutionary and timeless and monumental. But, you know, I guess that doesn't give Beyoncé a Grammy, even if you snap in two. I just don't think it was right, I really don't; it was the album of the year for me. But then again it's a committee and I guess they're very old skool, you know? But I think Beyoncé really, really deserved that, and I think that everybody expected her to win.
So how are you feeling ahead of the release of your international debut, So Good?
I feel really good. I'm super-proud about every song and over everything that I've done. I think it's such a great album. There's definitely something for everyone on there; absolutely varied.
How do you feel you've grown as an artist since your Scandinavian debut?
I think you just grow as a person overall. The last album was out 2014 and it's just been a journey from being a girl to becoming a woman almost, and I feel like the sound is a bit more mature, maybe a bit more sexual. There's better production, better lyrics, better melodies. Everything has just levelled up.
How long has it been in the making?
Well, it depends on how you see it. I would say the last year, basically, because I've had a lot of different A&Rs on the project and I've had so many different people involved. But the team I have now I've had for about a year, and that was when I started working fully on the album, in London, L.A. and Sweden. But some songs are older than that, definitely.
Can you tell us about some of the collaborators? Can we expect more songs with MNEK?
MNEK produced tracks but he's not performing as an artist on anything except 'Never Forget You'. But I have four collaborators: MNEK, Ty Dolla $ign, Wizkid and Clean Bandit.
How did that Clean Bandit collaboration come about?
They just shouted at me – they were like, "Hey, do you wanna sing on a song of ours?" I was a fan, and they're so nice; the loveliest people.
What song on your album are you most excited for fans to hear, that they haven't heard yet?
I think 'Make That Money Girl' because it's a statement and a good, empowering message. And I also really like 'Only You'.
You're known for being pretty forthright in your opinions online, and there's an interesting section on your Wikipedia page, simply called "Sexism", with the quote, "Some followers have even taking to calling Zara a man-hater, which Larrson says she happily is."
(Laughs) I am. I'm super-radical. Like, I don't think people understand. (Laughs)
Do you ever get into trouble for things you say?
Yeah. Yeah, all the time. But it's not a big deal for me. I don't know, I think people that get hurt if I say that are just people who really need to sit down extra much.
Obviously you have loads of people who adore you, but do you encounter much hostility?
I mean, I think that comes with it, as a person who has followers, and a lot of followers. I think negativity naturally comes with it, unfortunately. But the trolls, they really come out of their holes when I talk about feminism; they just crawl up and are all up in my business. Just because I think they're very scared of women having power and having a voice.
How do you deal with those trolls?
I think there are so many beautiful, positive people surrounding me all the time, online and in real life, and I've never had someone walk up to me and say those things to me in real life, never. So online, sometimes it is pretty hard, I can't lie, but then I have double the amount of people who support me and who agree with me, and that's very nice.
What's the weirdest rumour you've ever heard about yourself?
It's actually been very cool so far. People are extremely nice to me and I hope they keep it that way. But there was a rumour that I dated Niall from One Direction. I've never met him, actually, and it was a big rumour for a while; I was like, "Um, no... That's not true." But it's fine; it's cute. I think the press can be really mean to some people, but they're super-chill with me. I don't think people really care about my personal life. And I don't know, the things I want people to know are very out there. But yeah, it's been good so far.
You've been working in music for almost a decade now. What were your ambitions when you started out in comparison to now?
Oh, it was the same thing: to be the number one artist on the planet.
And what's been the highlight so far?
One of the highlights was all of last year. The EMAs were great; I had the time of my life, it was the most fun. I did the David Guetta collaboration too – the EURO 2016 song – but it wasn't really me, it was his thing. I don't know, I've done so many great things but the EMAs was definitely a highlight.
Releasing So Good aside, what are you most looking forward to this year?
Just touring, being onstage. I haven't really been onstage a lot last year. I was not doing a lot of performances so I hope I'll get to be on stage a lot more this year, including the tour with Clean Bandit.
What can we expect from the live show?
Great, great songs and I like a lot of energy: visuals, dancing. It's a proper show and I hope you get entertained if you come see it.
March 2017