C Duncan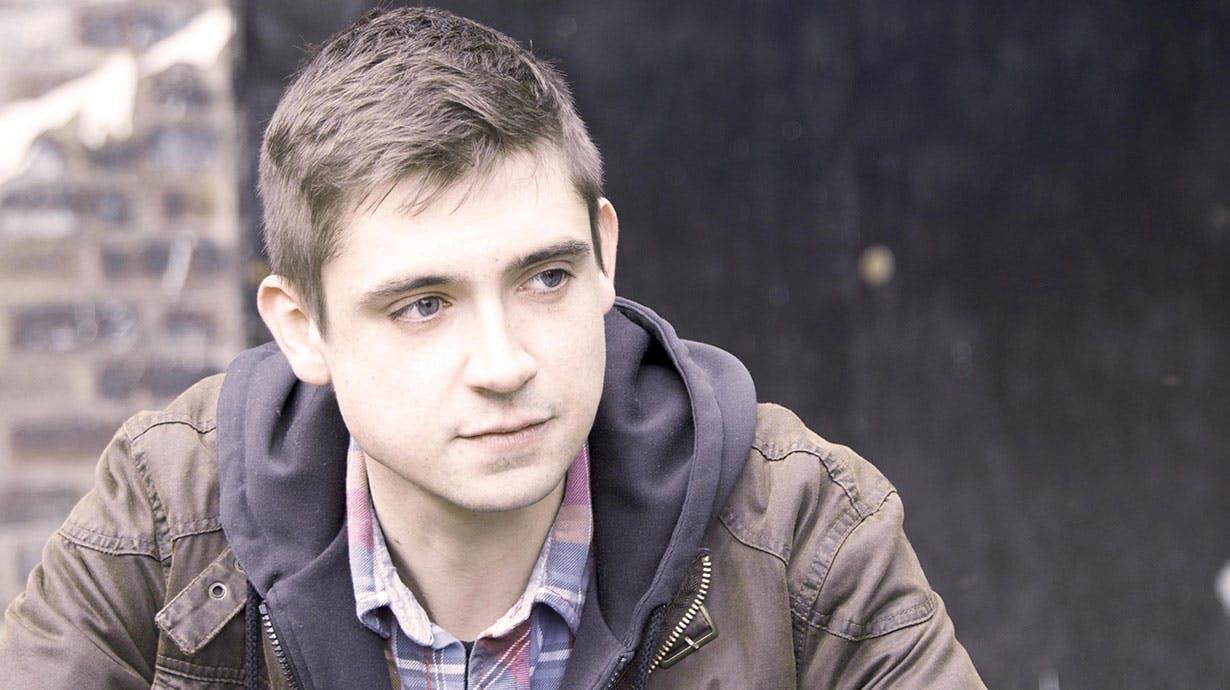 Shattering the preconception that DIY recordings are always lo-fi, Glasgow's Christopher Duncan has created an album of intricately-layered dream-pop from the confines of his bedroom. We caught up with the classically-trained composer and multi-instrumentalist to find out more about his musical background, and to hear the story behind his superb debut, Architect.
Can we talk about your musical background, Chris? What's your earliest musical memory?
My parents are both violinists, and my mum used to run a music store from our house, so generally I remember lots of musicians coming over and playing violins and looking through music. And then my earliest musical memory is playing the piano at my next door neighbour's house when I was about six.
What sort of music would you be hearing around the house?
There was a lot of classical music – a lot of baroque music, particularly – but my parents are both big, big fans of Burt Bacharach and the Carpenters, so we listened to a lot of that as well.
Did you ever have a rebellious phase?
I didn't really rebel against their choices as such, but I rebelled by listening to other stuff as well as their music. I listened to a lot of heavy metal and death metal. Yeah, I was one of those kids – a goth kid. (Laughs) I really liked things like Slayer – just anything scream-y and shout-y, with big guitar solos.
You would never guess that from listening to your debut.
(Laughs) Yeah, it's funny looking back. I still listen to that stuff sometimes
It seems that you were genetically predisposed towards a career in music. Did your parents encourage you in that direction?
Yes, in the sense that they encouraged me to make music if I wanted to, and they were always accommodating that interest, sending me to piano lessons and singing lessons. But equally, they were happy for me to do whatever I wanted to do. Because there's such a strong musical gene in the family, I guess it was just natural that I went and did music myself as well.
I actually wanted to be a painter as well. When I eventually came to the last year of school and I was trying to work out what it was I wanted to do for university, it was between going to the Glasgow School of Art or going to the Royal Conservatoire of Scotland to study classical composition. I decided at the time that music was the thing that I was most interested by, but I'm still keen to go back and study art properly.
How has your time at the Conservatoire influenced your creative methods now?
Well, it was a really interesting place to study. The heads of departments were very into all different types of music, and they encouraged us to listen to as much music as possible. So there's that, and also it probably influenced the way that I approach writing music. Although I don't write music down, I go over every element and make sure every note's in the right place; I don't leave anything to chance. That's the kind of approach that I had when I was studying classical music, and that's what I do with the music I'm writing now.
Architect certainly sounds meticulously constructed, with all those intricate layers. Where do you begin?
It's definitely all driven by melody. Whenever I'm writing a new song I start with melody and then I go to the piano or guitar – or whatever instrument's closest to me – and start harmonising, and it gradually builds from there. I don't tend to start with lyrics until about halfway through the song, when I've got the mood. It's then I start thinking what I want the song to be about.
Were there any sonic reference points for the record?
All the guys who record from home, really. Like Toro Y Moi – his first couple of albums were created at home – Ariel Pink, R. Stevie Moore... I'm particularly inspired by people who just go into their room and record album after album.
I recorded this album in my bedroom, and it's a nice way of doing things. My studio set-up was basically just a computer, an external soundcard, a microphone and one classical guitar, and I just played whatever I wanted.

How long did the album take to complete?
It was just over a year. To begin with, I was toying with the idea of just putting out EPs, and then when FatCat [Records] got involved they wanted an album. Once I had about 10 songs it clicked that I did want to make an album, and then another 10 songs came and I just chose ones that fitted together.
I'd spent so many years recording music and I wanted to record something where there was some sort of coherent musical style to it. Although [the songs are] all different, they all fit in the same musical world. There's a gentleness to the sound, I guess, which I can't see changing. And the way that a lot of old pop songs use harmony – particularly the old Burt Bacharach songs – was something I tried to put into the album.
Lyrically, where were you looking for inspiration?
Lyrics are a funny one for me. They're personal but they're clouded with lots of other things. I'm not the greatest at expressing my emotions through music, so I tried to find a way that I could write stuff that was very personal but in a way where it wasn't blatantly obvious what each track was exactly about.
All the songs are quite different but something that comes up quite a lot – and it sounds a bit corny – is just keeping carrying on with whatever you're doing. This idea of going back, starting again, and having to go through everything again. Because making the album took so long, at so many points in the process I would be like, "Oh god, I've got another 16 songs to go..." Sometimes the songs actually became about that as well.
It sounds like a very challenging process. How did you stay motivated?
I'm motivated by my love for making music, I guess. Creating is just something I need to do: I feel useless and lost if I'm not painting or making music. I always put my music and my art hand-in-hand, so while I'm discovering new music, I'm discovering new artists as well. I think all these things inspire me and influence what I'm working on. It's something I need to do. I feel useless and lost if I'm not painting or making music. I always put my music and my art hand-in-hand, so while I'm discovering new music, I'm discovering new artists as well. I think all these things inspire me and influence what I'm working on.
So, what's the plan for the rest of the year?
For the rest of the year we're going to be touring a lot. We're going to go out to Europe and we'll be doing some more shows in the UK. And I've started writing the second album, so I'll continue with that and then go into the studio next year, possibly, and start getting some stuff recorded.
What kind of direction are those new songs going in?
It's too early to tell at the moment, because I'm really just pulling ideas together for new songs. But the last song that I was working on was pretty upbeat. It's quite pop.
Do you have any other projects on the go outside of the work you do as C Duncan?
Musically, I want to get back to doing classical stuff. I'd quite like to do film scoring and things like that, but I'm going to wait a bit to get back to that and just continue what I'm doing at the moment. Outside of that, I want to continue painting and start getting exhibitions up and going again. I've exhibited a lot around Glasgow and in Scotland generally, but it's been a while. It'd be nice to get a big show together somewhere.
Finally, where would you like to be in 12 months' time with your music?
I'd like to have the second album completed, and I'd like to have developed my live show because, at the moment, we're quite new to the live thing. Until this tour we were just a three-piece, but now it's a four-piece: guitar, drums, bass and keys. In a few months time, I want to start bringing in other musicians to do live gigs, and expand the band.
I guess my biggest ambition is to not stop making music, because I enjoy it so much. Obviously, it'd be lovely at some point in my life to win the Mercury Prize or something like that, but I'm equally quite happy just writing and recording music for my own enjoyment.
July 2015